As anyone who has visited (or lives in) Montreal can attest summers here are warm, fun and will have your calendar quickly filled up.  It's hard to believe that despite having lived here for over 5 years I still had not taken the time to experience the Fantasia Film festival.  To quote wikipedia:
"(also known as Fantasia-fest, FanTasia, Fant-Asia) is a genre film festival that has been based mainly in Montreal since its founding in 1996. Regularly held in July of each year, it is valued by both hardcore genre film fans, and distributors, who take advantage of the eclectic line up to select foreign and domestic films for release across North America. By virtue of the reputation developed over the last 15 years, this festival has been described as perhaps the "most outstanding and largest genre film festival in North America""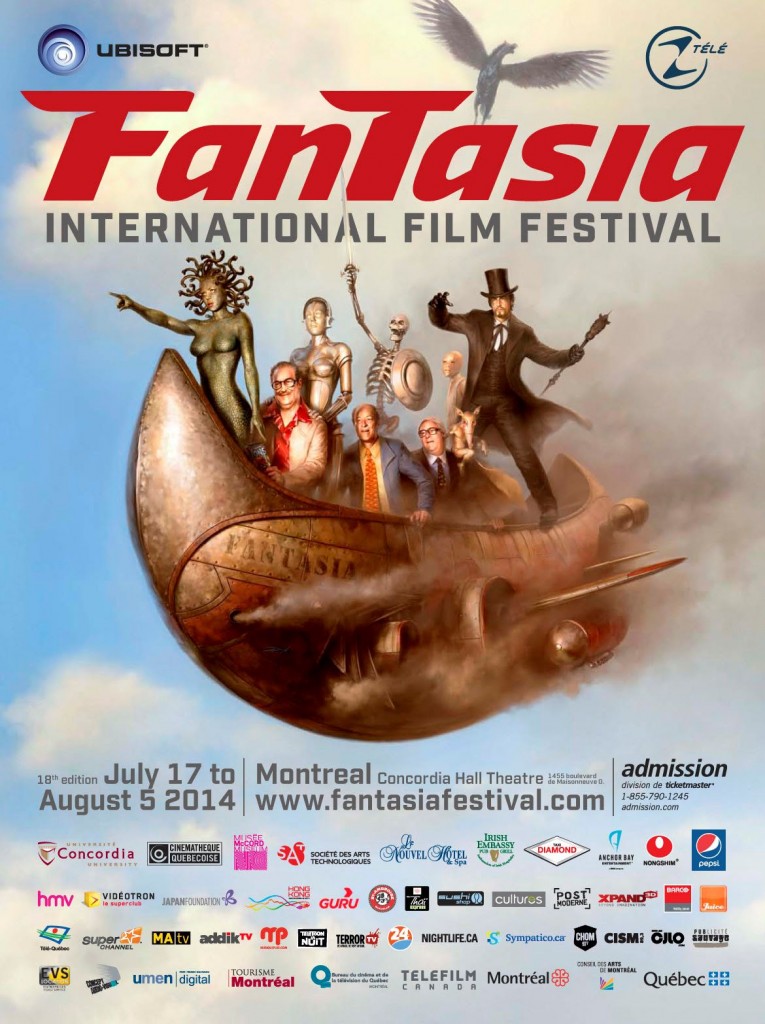 For those who might not be familiar with my blog:  I enjoy anime, Asian films and culture and consider myself a "geek".  Seeing as the Montreal Fantasia Film festival is a mix of all these elements, I should have made a point of attending much sooner.
My brother had been wanting to come visit Montreal and myself for a while.  He was able to book a week off from work and flew into town the at the beginning of the festival.
The tickets went on sale one week before the festival.  You could purchase a 10 pack of ticket vouchers through admission.com (French ticket master).  Once you had purchased the ten pack voucher they gave you a code that you could enter to get actual tickets for each show.  The whole process was fairly easy if you're comfortable with computers.   Tickets went on sale at 1 pm and by 1:30 I had already gotten tickets for the shows we wanted to see.
First up was "Ghost in the shell" the 1995 classic which had been retouched to "HD".  The theaters being used for the festival projections were located on the University of Concordia campus.  We arrived approximately 1 hour before the move was to be presented and there was already a good number of people in line for the movie.  This was to be expected as prior to the movie the festival was presenting a lifetime achievement award to director Mamoru Oshii.  You can see him here with his translator and Fantasia Film festival organizer: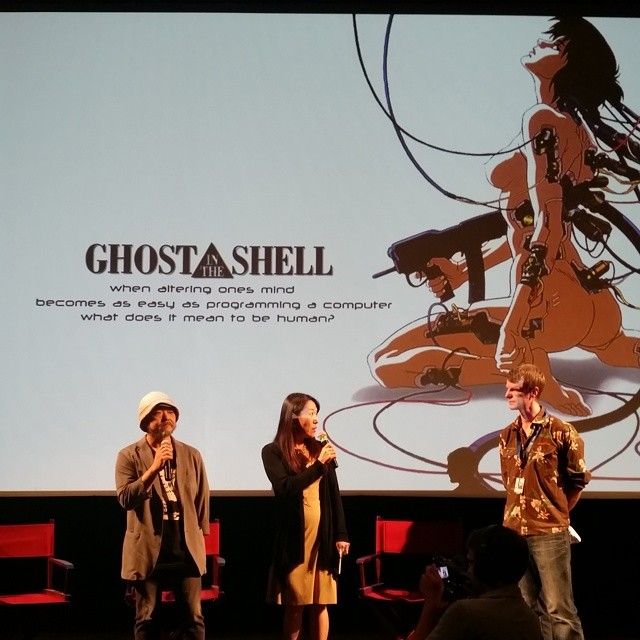 The DB Clarke Theatre is in my opinion perfect for these types of projections.  Comfortable, cool, not too big yet not too small.  The festival organizers asked a few questions to Mr Oshii which were translated on the fly by a professional translator at his side.  They then allowed the festival goes to ask a few questions.  Mr Oshii had great answers and interacted well with the crowd and the translator.  He had us laughing and cheering on several occasions.  It also felt great to he hearing Japanese (even if I don't understand it.).
It is no doubt a Fantasia tradition but as soon as the lights went dark, prior to the movie beginning, various people starting making cat "meowing" sounds.  This was the case for each movie we saw.  It had been a few years since I had last watched Ghost in the shell.  Although the story it tells is still current the animation was beginning to show it's age.
The second film we saw was the 2013 Korean movie: Cold Eyes (Hangul: 감시자들; RR: Gamsijadeul; lit. "Stakeout" or "Surveillance")  and what a gem it was.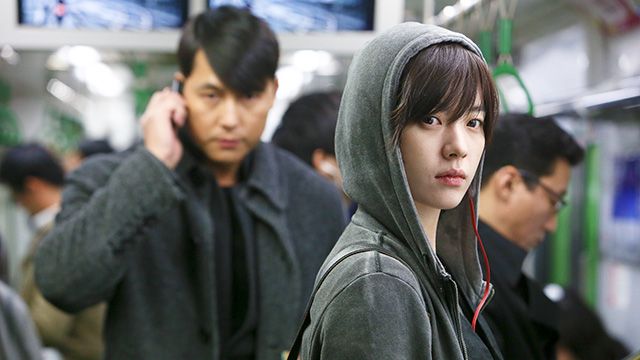 Often times I'd rather not look at movie trailers or read descriptions.  I do this to simply be surprised with what ever is being shown.  I don't want to give away too much of the plot but the movie consist of a rookie special agent (I'm guessing sort like the FBI) who joins her new team.  At the same time a master mind professional thief plans thefts and ruthlessly eliminates any loose ends he comes across.
The movie was truly a perfect mix of humour, suspense and action.  There is a scene which was done on foot which is truly an amazing piece of filming.  One individual jumps out of a window onto the street and I had never seen it filmed in such a fashion.  Was truly a beautiful bit of film.  If you're looking for an interesting Korean film to watch I wouldn't hesitate to recommend this to anyone!
Our third film was "Boyhood" and I quote Fantasia:
"It's now over a decade ago that the visionary Richard Linklater announced a project so audacious that many a naysayer claimed it couldn't happen. The director of SLACKER and the recent BEFORE MIDNIGHT planned to assemble a cast of actors who he would film over the course of a dozen years, to tell an utterly authentic tale of American childhood and adolescence. The unanticipated BOYHOOD finally saw the light of day early this year and made a huge splash with its world premiere at Sundance, before nabbing a Silver Bear at the Berlin Film Festival. Linklater's unique saga, unprecedented in cinema, makes a stop at Fantasia this summer. Many critics are already calling it one of the best films of the year, and so will you."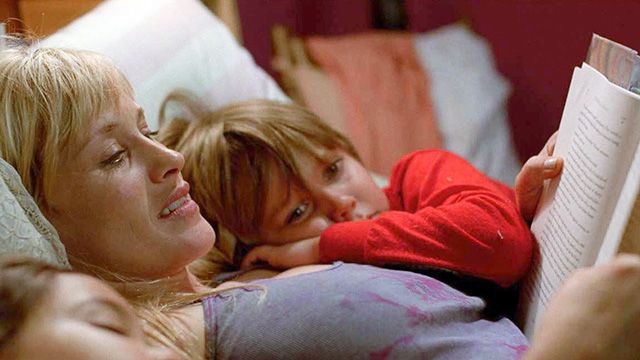 I first heard the expression "une tranche de vie" when I relocated to Montreal.  It roughly translates to "a slice of life".  Take the expression to mean what you want.  You often hear such things as "coming of age" and this will no doubt be used to describe this particular film.  The director used the same actors over a 12 year period to create his film.  It follows the trials and tribulations of divorced parents who raise their two children with the principal actor being Ellar Coltrane.  The film begins when he's 5 years old and continues up until his entrance into university.  The same actors (Patricia Arquette, Enthan Hawke, Ellar Coltrane, Lorelei Linklater) are used to create this film over the next 12 years.
All I knew going into this film was that they same actors had been used to make film over a 10+ year period.  The subject of this movie appears to be life itself and the trials, tribulations and joys that come with it.  My only complaint was that it was too "clean".  Where were the fights with the parents?  The teenage rebellion and angst?  I don't doubt some young men and women grow up much as they do as portrayed in this film, yet a large majority probably do not.  In the end I thought some of the acting seemed forced and missed chemistry.  Perhaps scenes such as those are where a great actor/actress distinguishes themselves by creating the chemistry.  It was certainly an interesting piece of film.
Next up was the Canadian premiere of Han Gong-ju (Hangul: 한공주).  A 2013 South Korean film written and directed by Lee Su-jin, starring Chun Woo-hee in the title role.  It is based on the infamous Miryang gang rape case in 2004.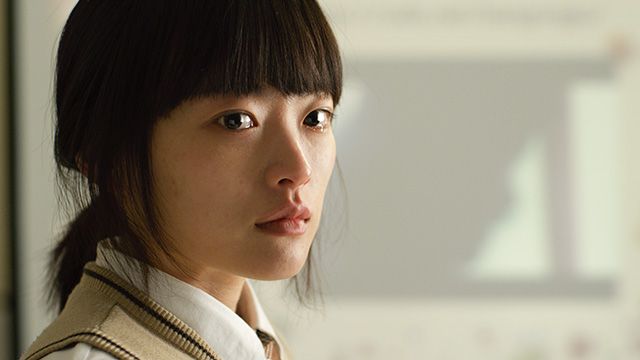 In this case I wish I had read a little more about the subject of the movie prior to attending.  It's the story of a teenage girl and her friend who are gang raped.  Once more without spoiling too much of the details the movie is played out in a way that you only piece together what has occurred later in the film.  The ending is heart wrenching and I want to say almost "typically" Korean in the sense that it leaves you wondering.  Sad that this tale is based on a true case and that the perpetrators got off so lightly.  I truly hope attitudes have changed for the better in South-Korea since then.  I enjoyed everything about this film (the scenery, the excellent acting) with the exception of the story it was telling.
The final movie I'll be seeing will be Wolf Cop.  I can't wait to watch this movie.  It's the story of a small town, alcoholic cop who is bitten and transforms into a werewolf.  It'll be shown Friday August 1st at midnight.
Can't say enough about the Fantasia volunteer staff.  We had planned to see two movies in a row in the same theater hall.  There was roughly a 15 minute break between the two presentations.  Many of us who had our tickets for the second movie stayed in our seats.  The staff came in and explained we would have to wait outside while the quickly cleaned the theater.  They also explained that we would be the first individuals to enter into the theater because we had been in the room for the previous showing.  As long as you had your ticket stub you got to chose some of the best seats in the theater.  Perhaps this is standard at most film festivals?
To sum up the Fantasia Film experience:  Clean, intimate theaters, great people in attendance, awesome staff, reasonable prices and excellent movies.  What else could you want from a film festival?  To spend time at the festival with my brother made it that more fun and special!  If you`d like to see a great collection of Fantasia 2014 pictures have a look at their Facebook photo stream.
It's not even over yet and I can't wait for next year!
mtl_dokk-aebi