Oui, oui, OUI!  It's that time of the year again, where we get treated to some of the greatest, strangest, funniest and quirkiest movies of all kinds.  It's the 2015 International Fantasia Film Festival!  This was my second time attending, with last year being the first.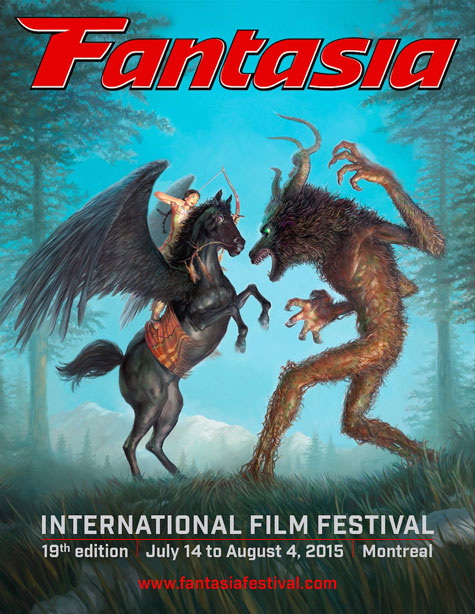 This is going to be a long post, covering every movie I had an opportunity to see, discussing what I thought of it and providing links so you can find additional information.  Sit back, relax and grab some popcorn.
For a second year in a row I purchased a ten pack of tickets and waited for the online box office to open.  For those who might not be familiar with how tickets sales work you have two options:
You wait in line on the specified day and purchase your ticket(s) in person.
You purchase your tickets either individually or via 10 pack online.
When you purchase a ten pack of tickets you are sent your electronic receipt.  Shortly there after you'll be emailed your 10 pack ticket code.  This is the code you'll use online when purchasing your tickets.  You are allowed to buy a maximum of 4 tickets for each viewing per transaction.  The popular movies tend to sell out in minutes, while others still have tickets available prior to it being shown.  Onto the reviews!
First up for me was Ant man on the opening night of the Fantasia film festival and a "premiere" of sort for North America.  Ant Man had premiered in Hollywood a few days before.  It was then premiered once more at Fantasia prior to it being released throughout North America a few weeks later.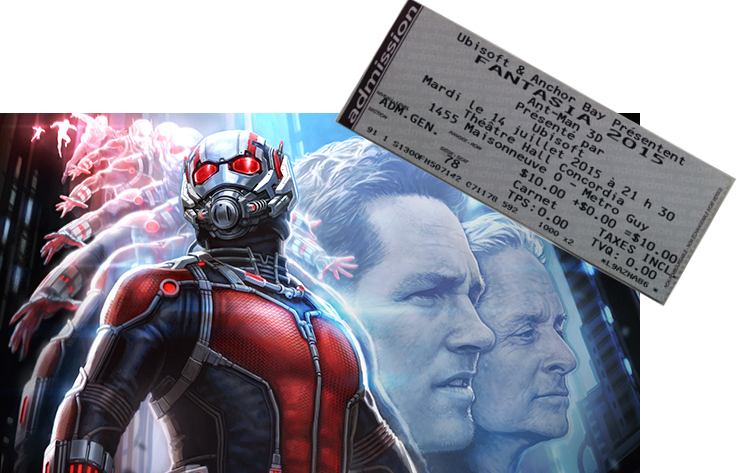 I thoroughly enjoyed this super hero movie which didn't take itself too seriously.  My one complaint about Hollywood and its super hero movies in general are long "special effects" action scenes which add nothing to the movie or story.  There was only one scene which I thought felt "out of place" in an otherwise riotous and fun movie.  That's saying a lot considering it went through several different directors if and I'm not mistaken took years to make it to the screen.  For my money this is how superhero action movies should be done.  Without giving it away, the scene with Thomas the train was spectacular.
Up next was the Korean period piece film The Royal Taylor.  When looking at the film selections my main goal is to try to find films I might not otherwise get a chance to see and to try and get at least a few movies from different countries.  This would be my first Korean film of the festival.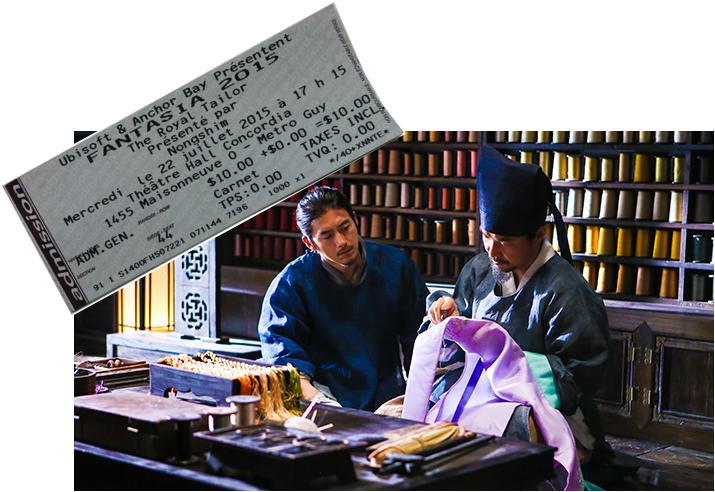 It had a nice mix of humour, wisdom and suspense.  The real joy of this movie were the exquisite sets and costumes show casing the beautiful fashion and traditional dress of the period.  It follows the Royal courts official taylor as new designer fashions slowly become more popular yet do not follow the traditions of the past.  I wouldn't call it a great film, but it was certainly enjoyable and very visually pleasing.
Next up was Miss Hosukai, a Japanese animation film based on one of the daughters of the famous painter Katsushika Hokusai (1760-1849) who had earned the nickname "the old man mad about drawing".  This to me was a real gem of a movie for several reasons: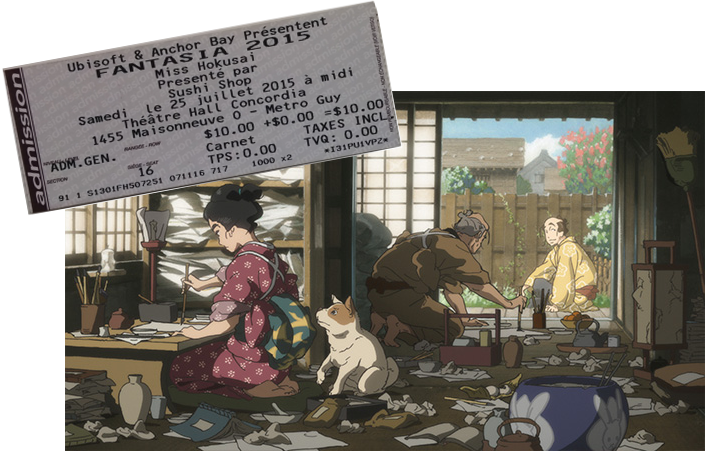 The story interweaves the famous works of Katsushika Hokusai along with the life of one of his daughters, the outspoken 23-year-old O-Ei who is the movies main focus.  As a westerner, I was familiar with one of his pieces but did not realize it belonged to him.  The Great Wave off Kanagawa: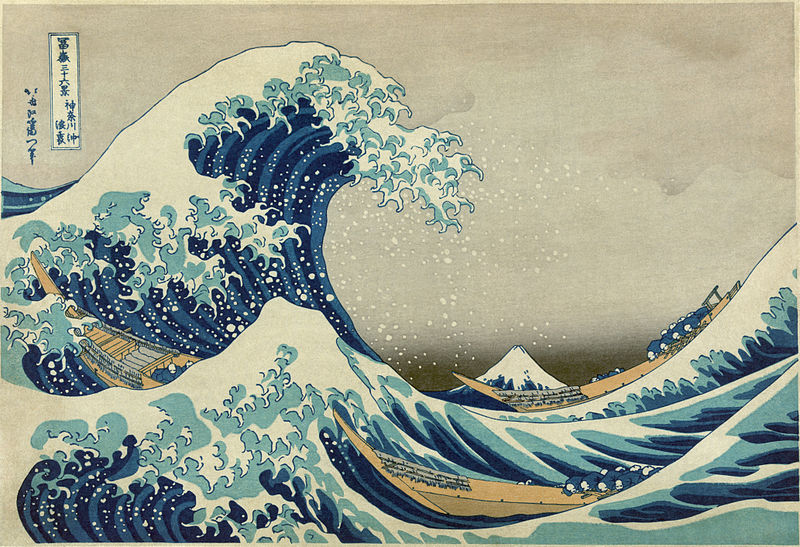 The movie was set in Edo, which is now current day Tokyo.  It's a wonderful ephemeral tale of life and artistry.  I recommend it highly and it's given me a new found interest in his work.  Without doubt one of my favorite films of the festival.
This was followed a few days later by my first Sion Sono film and my second Japanese film of the Festival:  Love & Peace.  I had only read the brief description on the Fantasia festivals page regarding the movie.  I refused to look at any reviews or do further research prior to sitting down and seeing this on the festival screen.  What awaited me was a quirky tale of comedy, love and fantasy.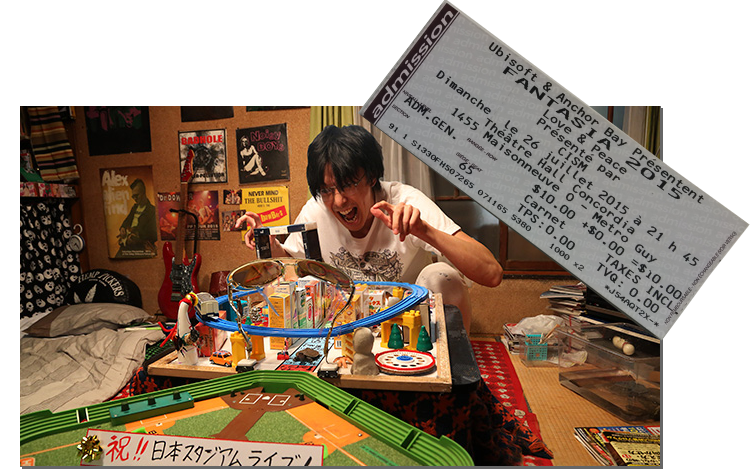 I really don't want to give away too much of the story so I'll leave you with just enough to hopefully convince you to check it out: "Ryoichi, a disgraced musician, is treated with contempt by his co-workers at the third-rate company where he toils. To bring a little light into his miserable life, he adopts a tiny turtle, which he names Pikadon. With this new companion, Ryoichi's spirits are lifted enough to rekindle his musical dreams, but the day he brings Pikadon to work, his colleagues force him to flush the reptile down the toilet."  From here the real story begins and it's a thoroughly enjoyable, fantastic and funny tale.  PPPPIIIIiiiiikkkkaaaaddddoooonnnnnnnn!
Up next was a movie packed Friday night.  I had purposely chosen to go see Shinjuku swan for several different reasons.  First off, it was playing just before Turbo Kid's midnight showing in the same theater.  This meant once it was finished I would have priority seating to Turbo Kid, as long as I held onto my movie stub for Shinjuku Swan.  Secondly and perhaps more important this was another Sion Sono film.  This would be the second of his films I saw and the first film of his had left me in absolute bemused awe.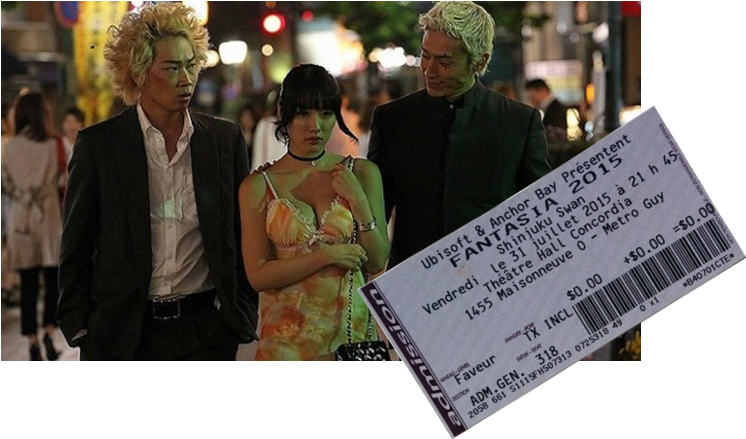 This film occurs in what is known as the Shinjuku red light district in Tokyo Japan.  The movie is based off a manga (graphic novel/comic book).  I had actually spent some time in this district wandering the streets during my first visit to Tokyo.  Seeing the alleys, buildings and people on the big screen transported me back to when I was part of the same masses.  I was impressed by the story telling and the way in which you become involved in the characters that are presented.  It is at times light hearted, comical and in the same breath serious and dark.  I'm torn about how to best describe this film, which I'm told is a common problem with Sono films.  Just watch it, there's something for everyone in it.  I read some other reviews which thought it glamorized the yakuza and red light district.  I found that amusing because although it does touch on the subject I didn't feel it glamorized the life.  It just began with the assumption that these things do in fact occur.
Immediately after Shinjuku Swan was the midnight projection of "Turbo Kid".  This is a Quebec made homage to the 80's movies many of us grew up with.  It's a light hearted comedy with scenes of over exuberant blood and guts.  The movie begins with a song made famous by the 1986 movie Rad.  It even includes our protagonist taking his bmx off a few sweet jumps while the intro music plays.  The crowd was rambunctious as the previews started and set the mood for the movie in general.  This included the traditional cat "meowing" that the fans emulate prior to the movie starting.  This particular crowd being extra boisterous as it also counted the amount of "logos" appearing on the screen before the movie started.  I believe we got up to 13 or 14 with laughter in between each one.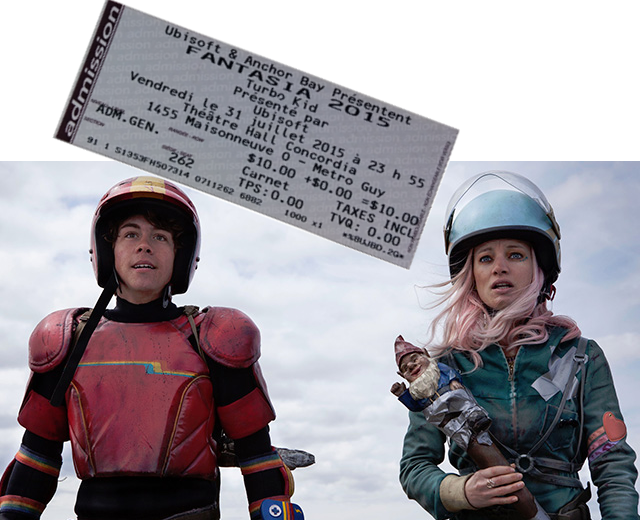 Turbo Kid is set in a post apocalyptic world (1997) where people scavenge dearly for water and anything that might be of value.  It doesn't take itself too seriously and had more than a few memorable scenes that had the crowd cracking up in laughter and applause.  This film was made by people from the Montreal region who actually grew up attending Fantasia.  As such the movie is very much a product of the Fantasia Film festival.  They had a Q&A with some of the actors and who I assume to be the producers quickly before and after the showing.  It was a "home coming" of sorts for everyone involved.  The 3 producers even said it themselves prior to the film being shown "This was made for you guys, the fantasia crowd.  We grew up here and this is for you/us".  Not an exact quote because I can't remember it word for word but it's fairly accurate.
It's a campy "B" rated movie that doesn't take itself too seriously.  As such it was a pleasure to be able to catch this at the festival.  The first showing of Turbo Kid sold out so quickly that they immediately scheduled the second showing which is the one I saw.  Turbo Kid will be released in theaters on August 28th!  If you're into B movies this is a great one, don't miss your chance to catch it if it's playing at your local cinema or by video on demand (online streaming).  I'm including the trailer to this one to support my fellow Montrealers/Canadians!
Next up was Sunrise, which I must confess was picked strictly based on it's country of origin, India.  My reasoning was that at the very least I would be able to see some nice scenery, fashion or cultural aspects of the region, even if the film might not be the most interesting.  In the end I got nothing of the sort.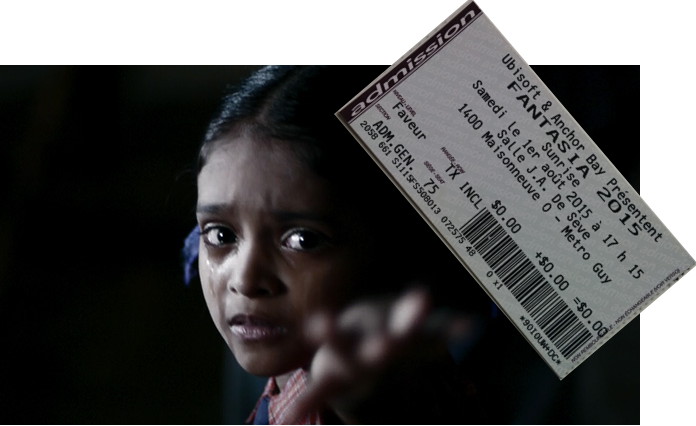 I felt that the story telling, editing and final product were lacking.  I don't like to criticize just because I didn't enjoy a film.  None the less I felt who ever was in charge of this film really wanted to get a message across but it got lost somewhere in the shuffle or cutting room floor.  It felt like 1/3 of the movie was bad actors trying to cry, the other 1/3 of the movie was the main actor running after shadows with his gun in his hand and the last 1/3 was dialogue and scenes that attempted to tie it all together.  The film ended with "every year 100 000 thousand children go missing in India".  This is certainly a sad statistic, but it brought nothing to the movie.  My main problem was with the story telling.  There's one scene in the movie in which there are police in an apartment where several young women (children really) are being kept against their will, hidden in the ceiling.  All one of them had to do was scream out for help, make a slight noise and they would have been found and helped.  Instead they all stay quite while the police scour the apartment looking for them.  Easily my least enjoyed film of the festival.
My final film of the festival would be the Korean film "A hard day".  This was also my second Korean film of the festival.  Initially I wasn't planning on seeing this movie but while in line for Miss Hokusai a few people were discussing it and explained that they had quite enjoyed it.  I still had some open tickets available to I decided to use one of them for "A hard day"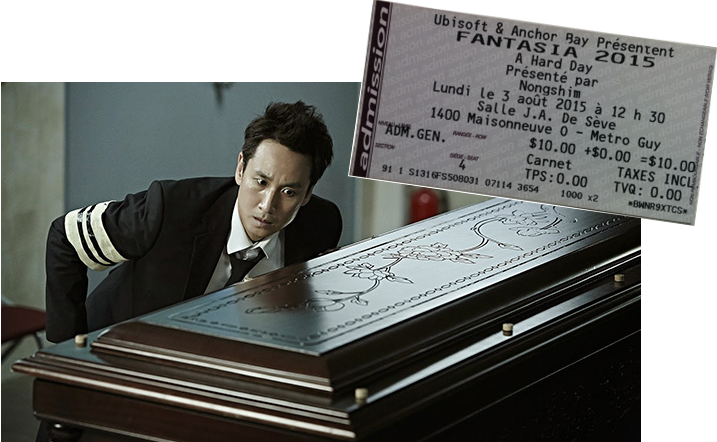 It was a pleasure to hear Korean spoken and to see the scenery of South Korea on the big screen.  I would describe the movie somewhere in between a dark comedy and police thriller.  It went a little too Hollywood with at least one fight scene for my taste.  That being said it had the audience in laughs on a few occasions and overall the movie was enjoyable.  Without ruining it for those who might be reading this, the story follows a Korean detective who is involved in a car accident:  He hits an individual while on the way to his mothers funeral.  What follows is some dark comedy, police suspense and intrigue.  An enjoyable entertaining film, but nothing spectacular.
This wraps up the 2015 Fantasia film festival for me.  Hands down my favorite films this year were Peace & Love, Shinjuku Swan, Miss Hosukai and Turbo Kid.
Can't wait for Fantasia 2016, see you all there.
Mtldokkaebi