It had been a while since I'd been able to travel.  I had this Chicago trip planned some time ago but wasn't certain I'd be able to make it due to personal reasons.  In the end my mom decided to join me for a 4-5 day visit to the windy city.  Having had several months to plan this trip I was very excited having booked several tables at local restaurants.
We arrived into Chicago early Thursday morning, checked in and made our way over the Pequod's at 2207 N Clybourn Ave for lunch.  This was my first time ordering some Chicago deep dish pizza.  Pizza is probably one of my favorite fast food items if we can call it that.  Montreal has it's fair share of various "Pizza by the slices" pizza joints so it's not hard to scratch that itch whenever you're craving a slice.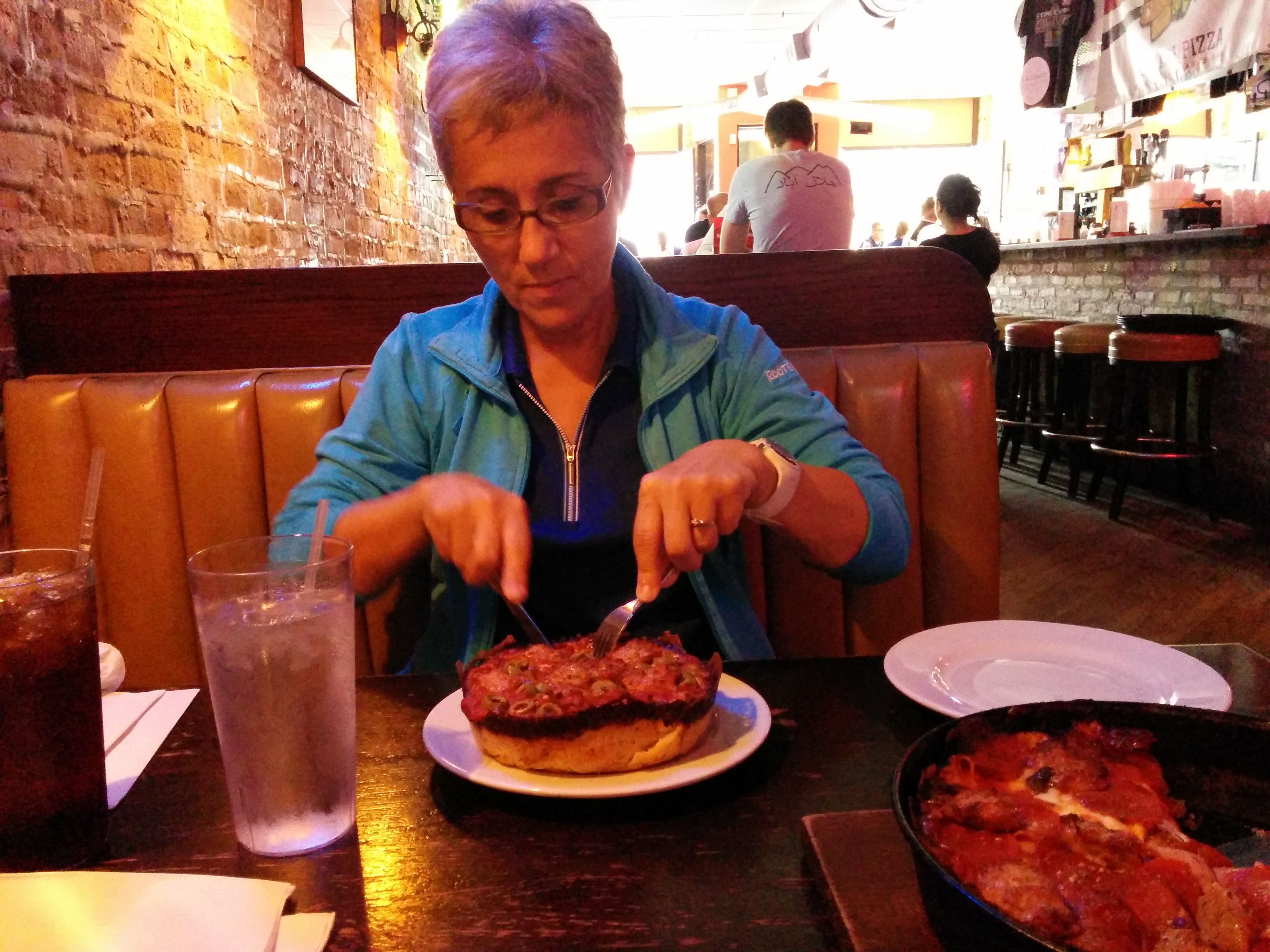 Mom ordered a personal sized deep dish with Olives and sausage and I went with a 10″ Canadian bacon, sausage and pepperoni.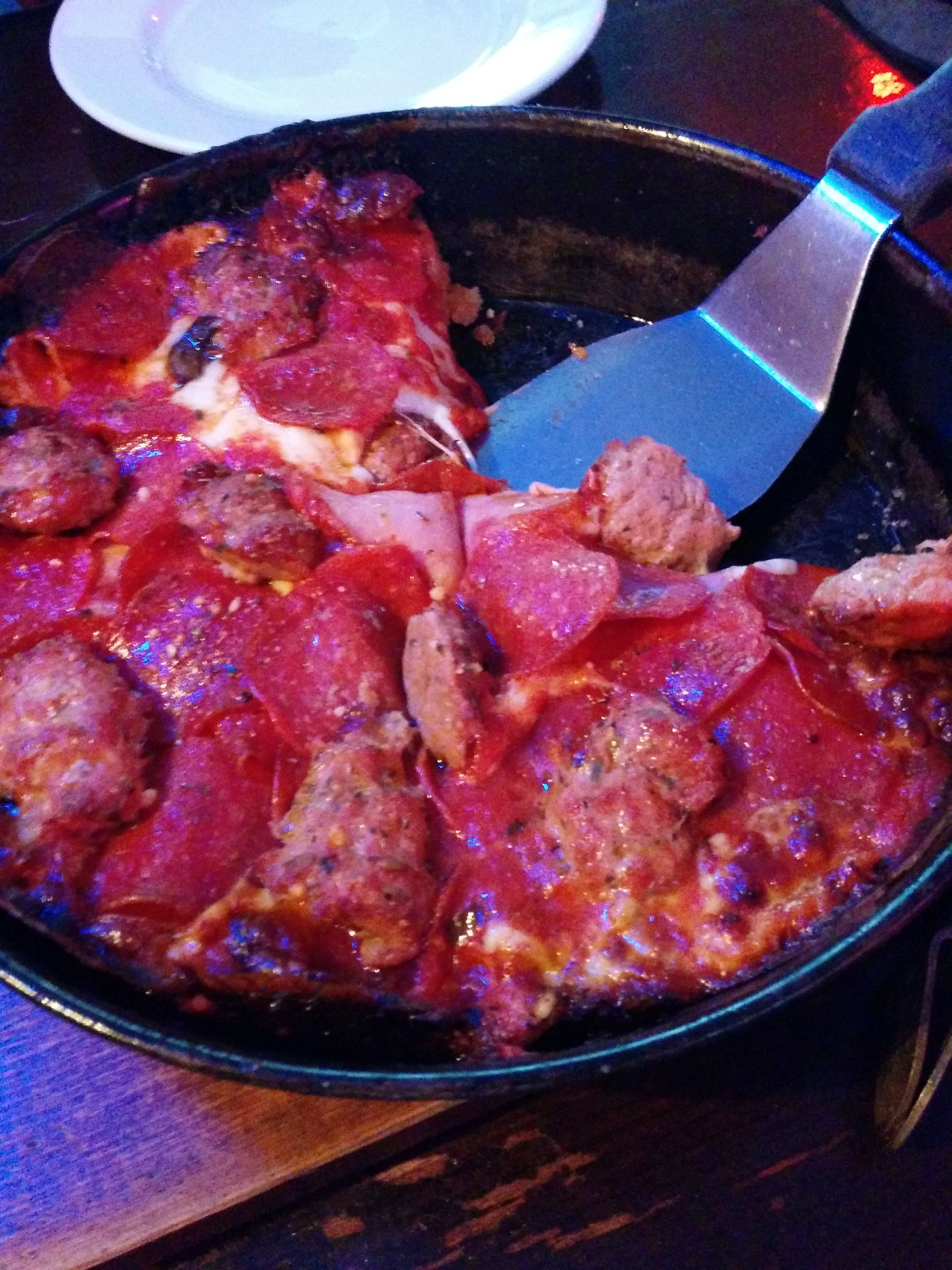 We were advised that the sausage was made locally specifically for Pequod's and that it would take 30-45 minutes before we got our pizza's.  The service was friendly and I ordered myself a pint of a local favorite beer while we waited.  Although I have nothing to compare it to, the pizza was delicious and I wouldn't hesitate to revisit Pequod's (or perhaps Lou Malnati's) for another round of their pizza!  Mom headed to our AirBnB place afterwards to relax, while I made my way over to the Galloping Ghost.  You can read about it in part 2 of my Chicago trip.
The following day we stopped in at the Slurping Turtle for lunch, located at 116 W Hubbard St.  It describes itself as Casual Japanese comfort-food spot serving noodles, sashimi & grilled dishes plus beer, wine & sake.  We walked in during rush hour and were quickly seated at a communal table/counter.  To be expected the place was buzzing with patrons and the music was playing fairly loudly.  A little too loud for my mothers taste but I explained this was done on purpose to drown out the conversation of the patrons.  The selection of music wasn't bad so I didn't mind as much.  We had a glance at the menu, I asked my mom if there was anything she wanted to try.  With that done and over with I went ahead and ordered for the both of us:  Edamame served chilled w/ yuzu Sea Salt, Gyoza a homemade classic pork dumpling with soy-chilli dipping sauce and finally the Duck Fat Fried Chicken.
For the main course if you will I ordered the Tan Tan Men Ramen (spicy) homemade ramen noodles, pork meatball, pork chashu, pork miso, bok choy, bean sprouts while mom went with the Tonkotsu homemade ramen noodles, silky pork broth, pork chashu, bok choy, molten egg, naruto, chili oil.
It was my first time eating Endemame in such a way and found it a great appetizer.  We both really enjoyed the simplicity and freshness.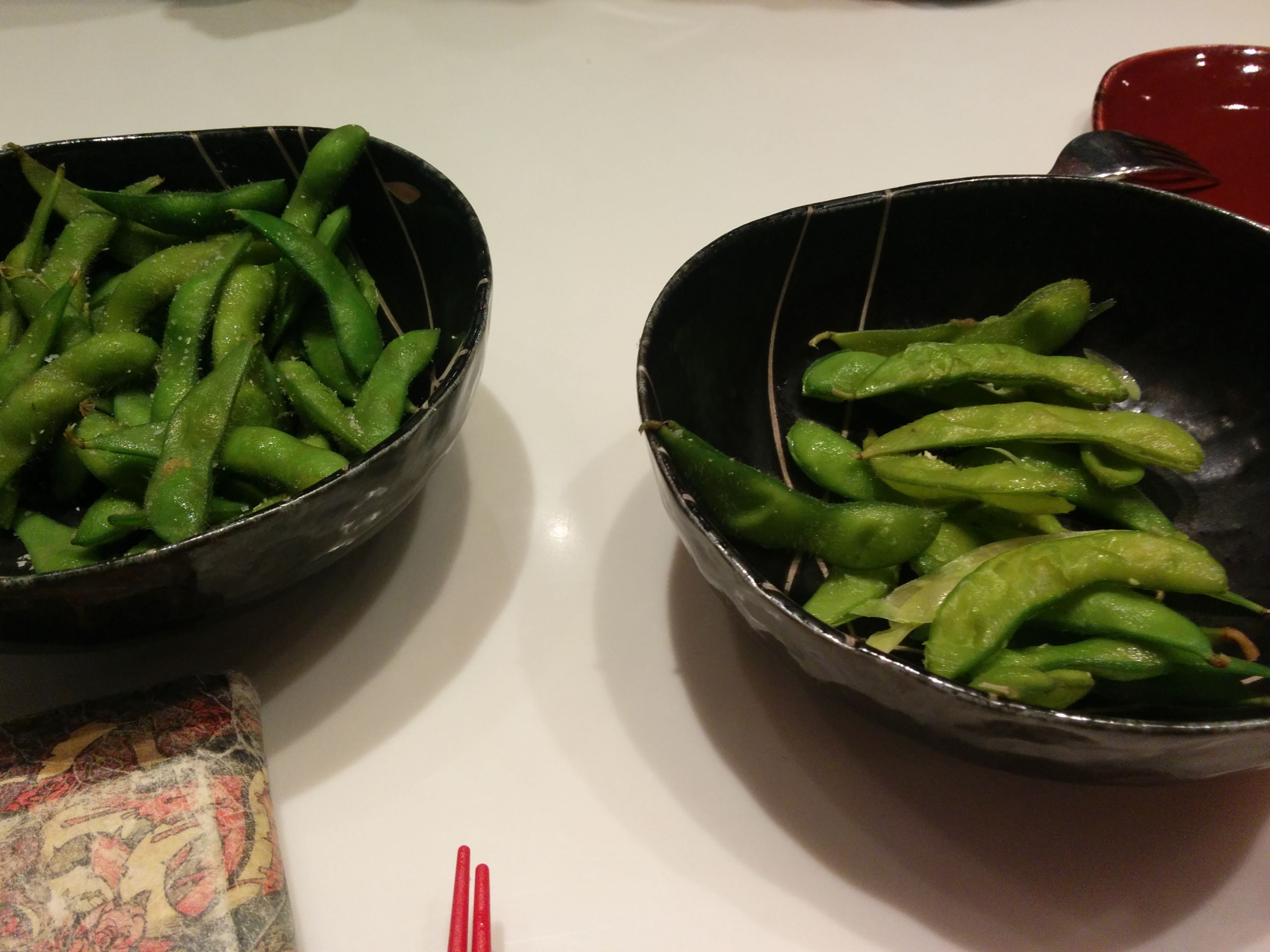 The dumplings had a taste that I wasn't familiar with.  I wouldn't say they were bad but there was a taste that felt odd on the pallet, nothing to write home about.  I found comments with similar opinions about the dumplings online. The duck fried chicken 'nuggets' if you will were absolutely tender and delicious as was the accompanying side of salad and dressing/sauce for the chicken.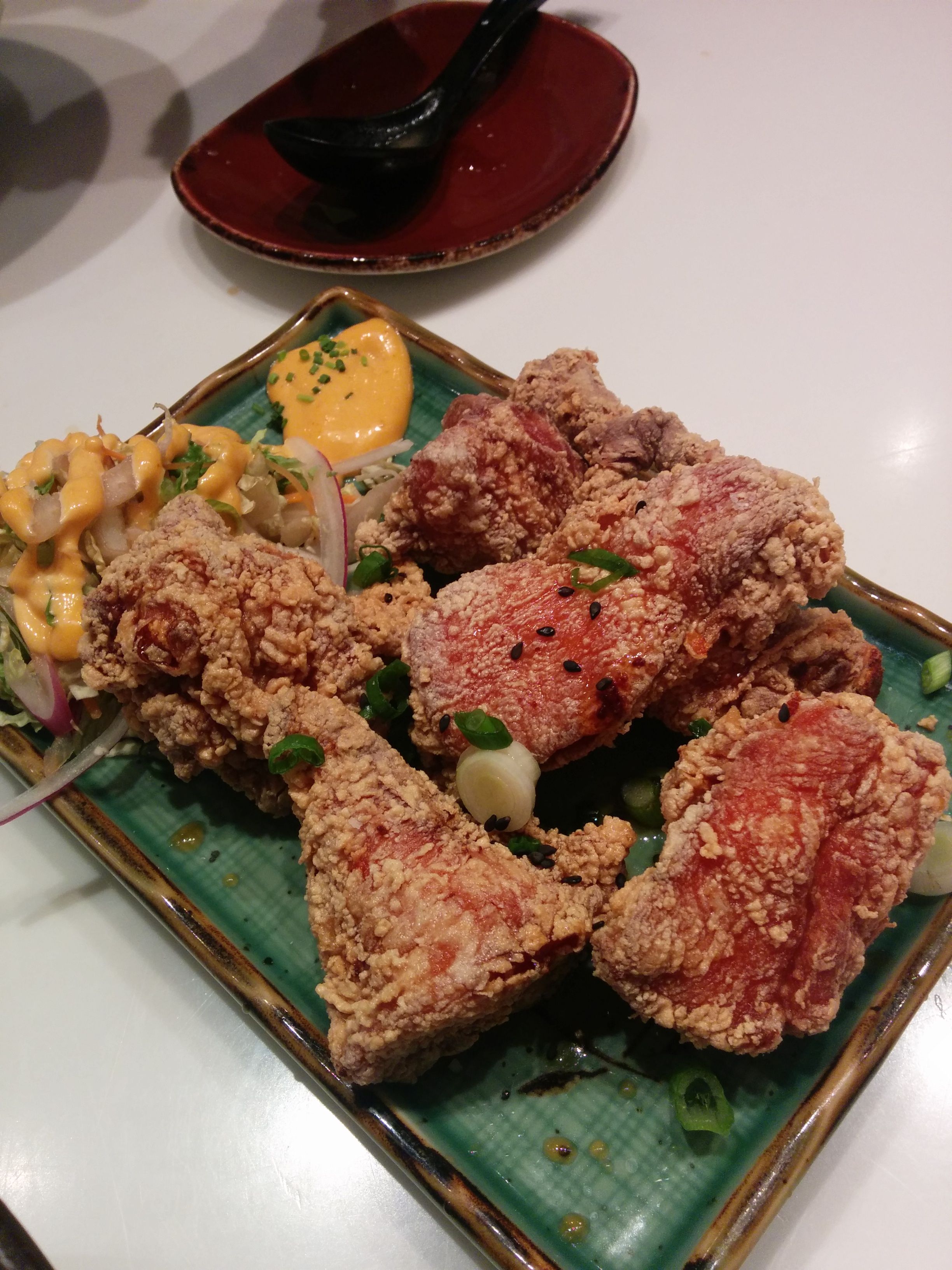 The soups were both delicious but in no way would I have considered my "spicy" soup as spicy. I'm a fan of true hot and spicy dishes and this tasted mild to my pallet while my mother indicated it was too hot for her taste.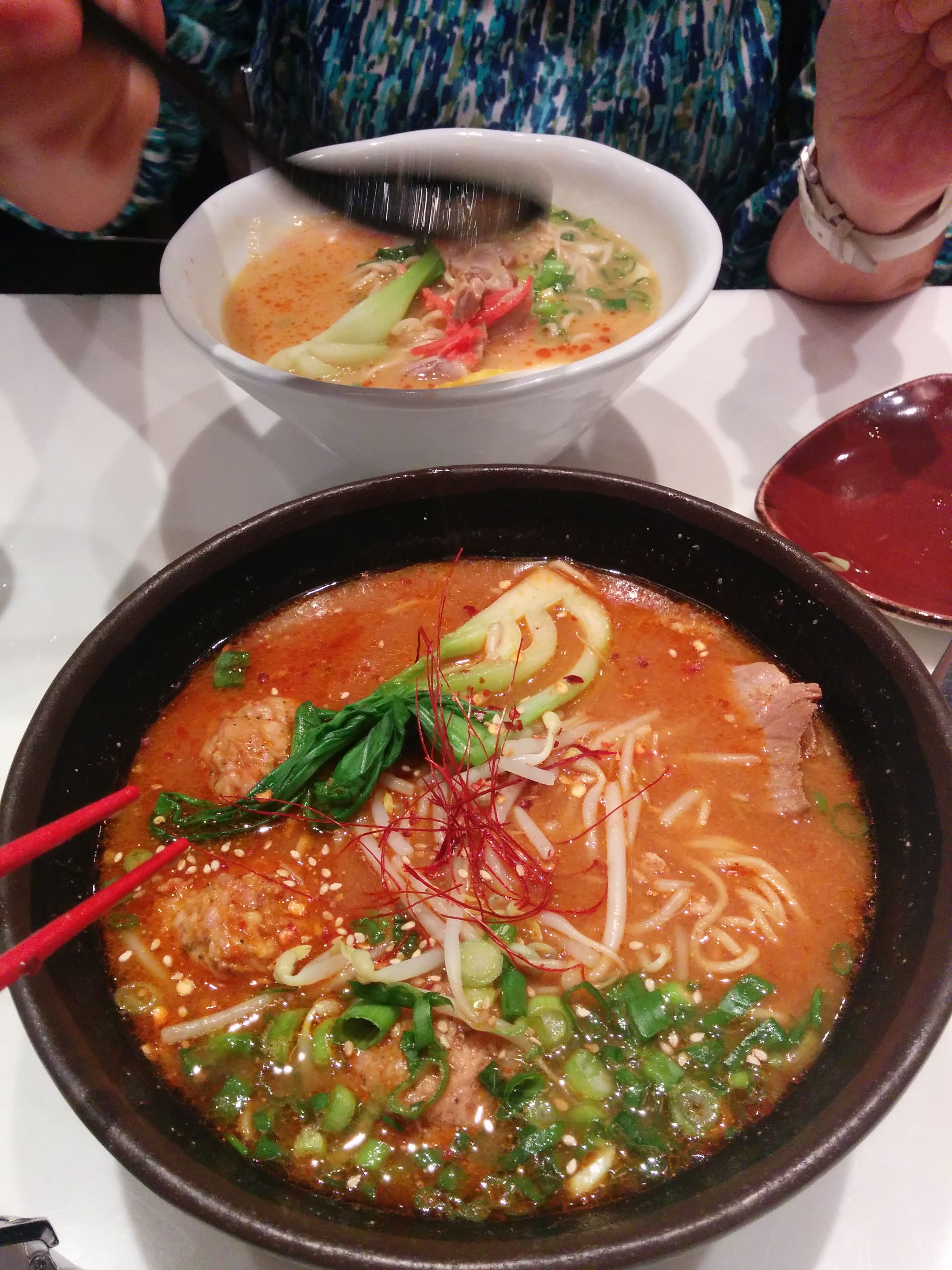 She enjoyed her Tonkotsu ramen noodles and both of us left a little soup in our bowls having eaten to our hearts content.  My only regret is that we only ate here once during our stay in Chicago.  The meatball/dumplings in our soups were amazing!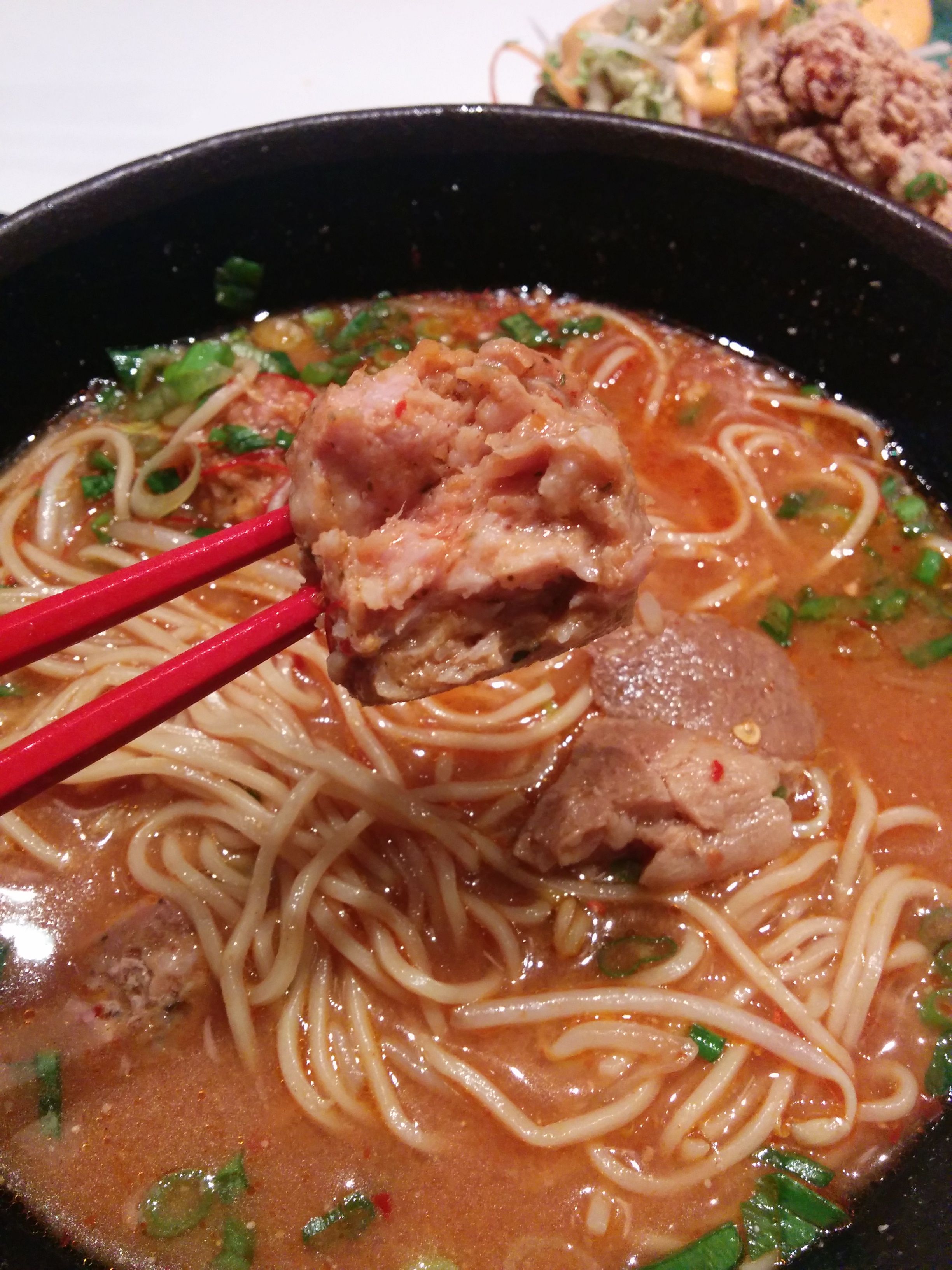 For supper we had a 6 pm reservation at Spiaggia located at 980 N Michigan Ave.  Taken from google it describes itself as "Longtime Chicago institution serving Tony Mantuano's upscale Italian meals in a refined setting."  I had done my research ahead of time and knew that they offered a 9 and 14 course tasting menu as well as a 6 or 9 glass wine pairing menu.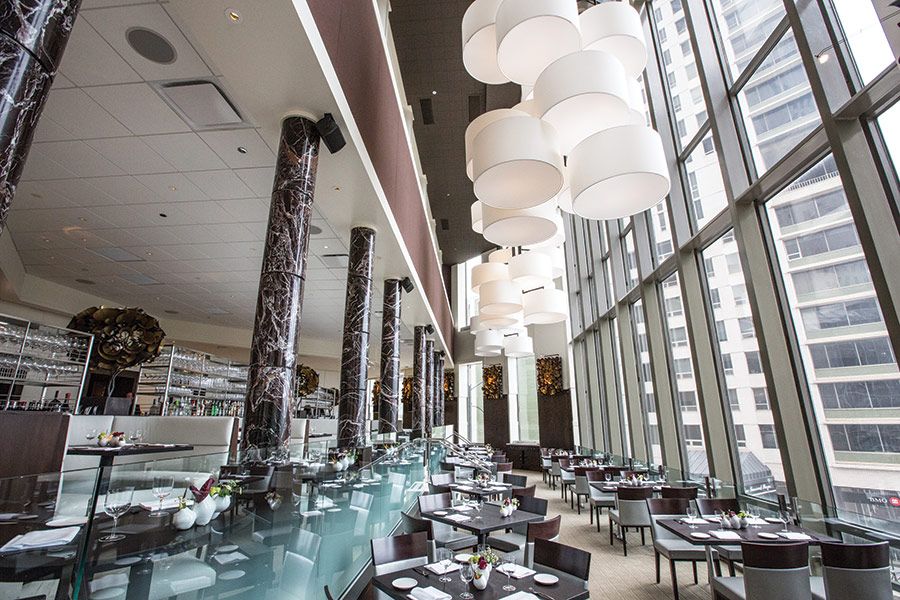 Spiaggia was going to be one of the places I was prepared to pay for the experience.  Everything about the place was first class.  From the very moment we stepped into the restaurant until the very moment we finished our meal; everything was above average.  They confirmed my reservation be telephone a few days prior asking if we had any allergies or if we were celebrating a special occasions.  They reconfirmed that we had no allergies once we were seated prior to us ordering our meal.  I wasn't certain if I would be able to get the 14 service along with the 6 glass wine tasting menu but as soon as our server confirmed it was possible I advised him that we would both be having them.  I didn't want to take out my phone to capture pictures at this restaurant.  I was there to enjoy the atmosphere and food.  That being said you can see some of the dishes we had: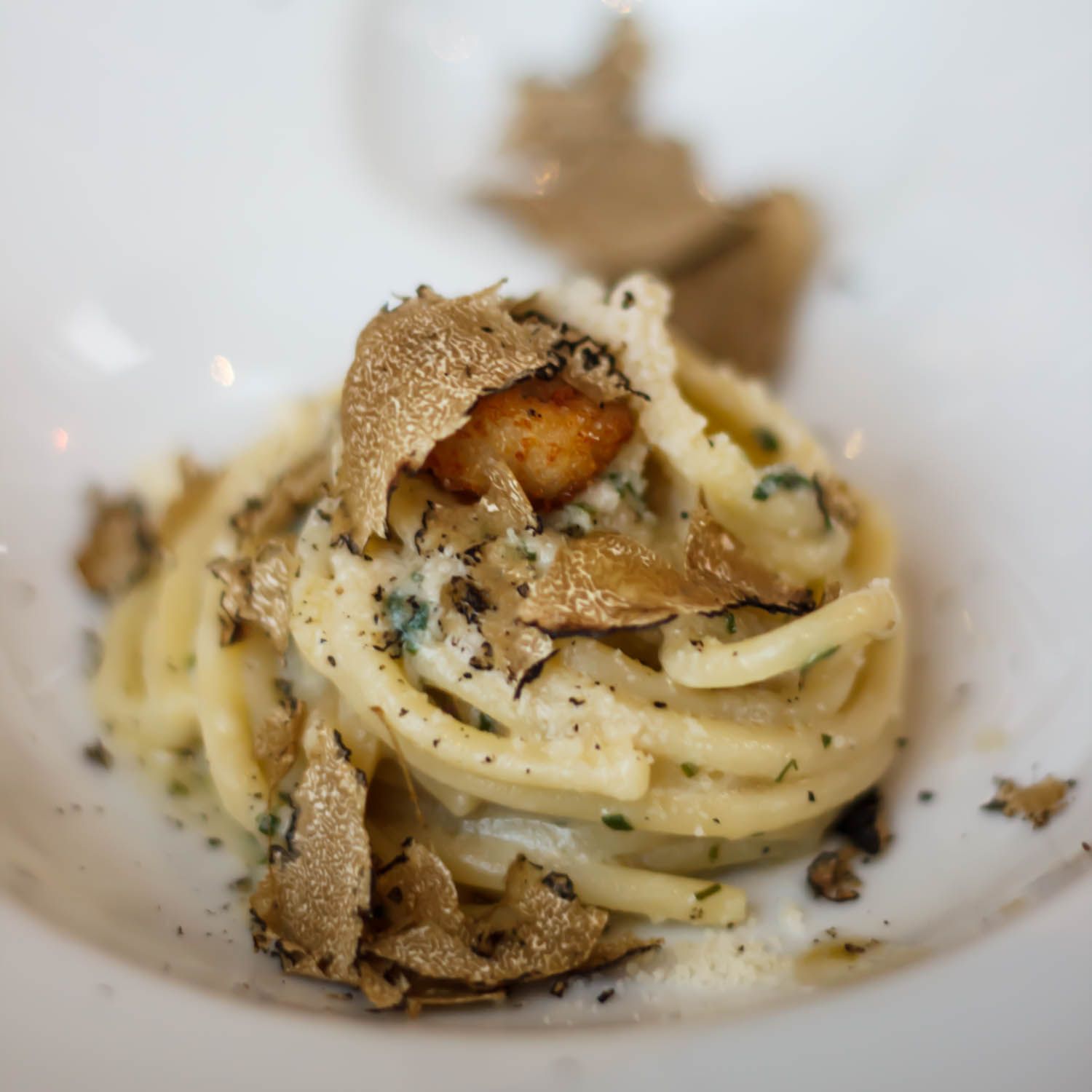 The wines consisted of:
Deltetto, Brut, Piemonte, Italy N.V.
Emmerich Knoll 'Schutt', Smaragd, Gruner Veltliner, Austria 2012
Domaine Sylvain Langoureau, 1er Cru 'Les Chalumaux', Puligny Montrachet, Burgundy, France 2011
Maria de Graca, Alfochiero/Alicante Bouchet, Vihno de Portugal, Portugal 2013
Hickenbothen 'Brook's Road, Clarendon Vineyard', McLaren Vale, Australia 2012
Kiralyudvar '6 Puttonyos', Tokaji, Hungary 2006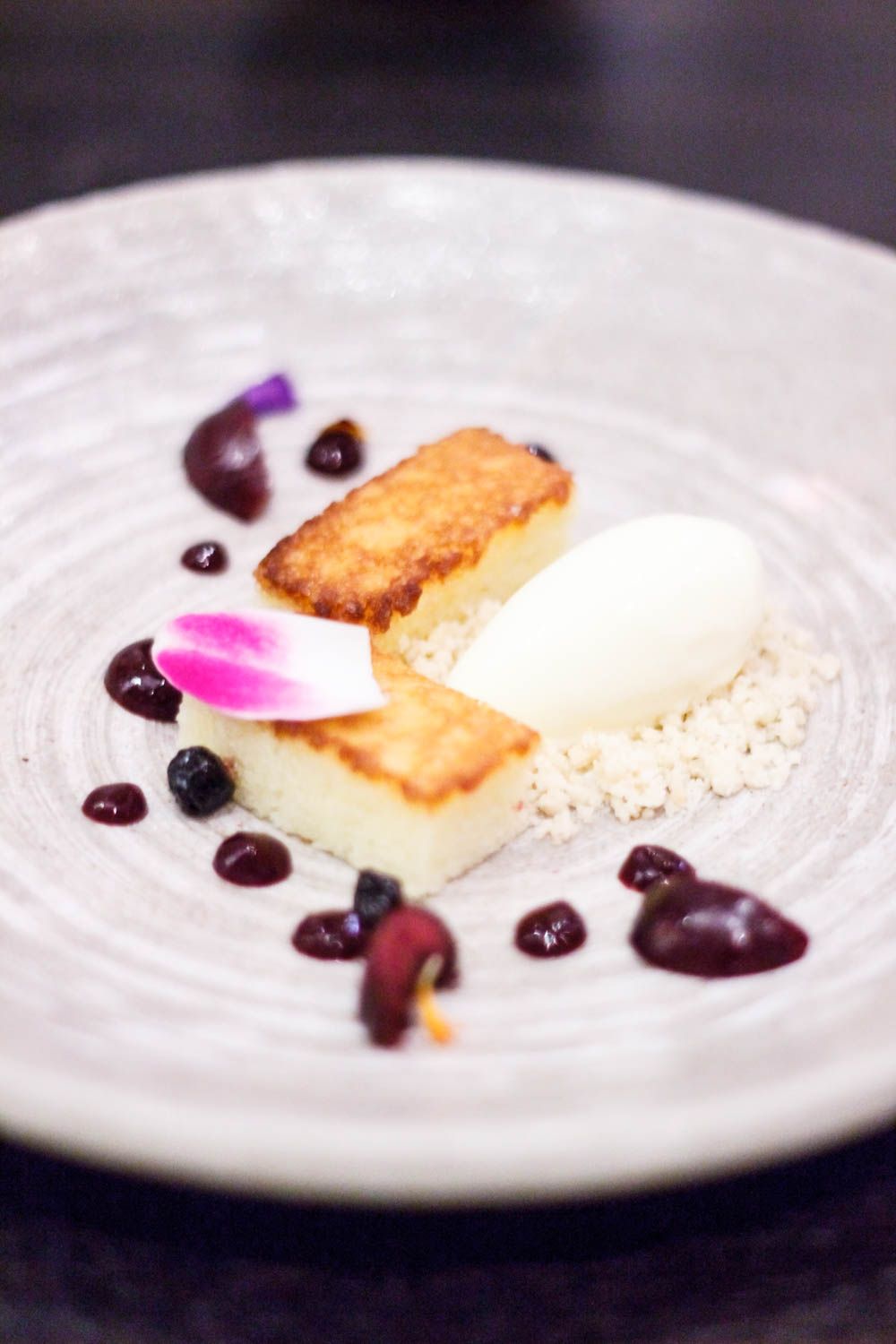 and our 14 course meal consisted of:
Artichoke truffle Parmigiano Reggiano
focaccia lardo foie gras
caviar burrata potato chive(Prestige Osetra 180)
bass fennel mascarpone roe
squash blossom robiola basil
dry age beef paddy pan
tortello tomato pecorino
bucatini sweetbreads black truffle
risotto sweet corn peperoncino
octopus potato huckleberry Sambuca
polenta mushroom black truffle
bison mirto blueberries thyme
Blu '61 apricot chamomile fennel radish
orange cardamom vanilla
sweet corn frutti de bosco
fennel orange jasmine banana
It truly was perfection on a plate.  I thoroughly enjoyed each dish and was pleasantly surprised when our server offered up another glass of Deltetto, Brut, Piemonte, Italy N.V. on the house with the second or third dish indicating that it also paired well together.  Later in the meal the server indicated to us that courtesy of the chef we could choose any one dish to have it once more!  We were torn between the squash blossom and the caviar burrata potato chive but in the end with the latter.  The dish in question: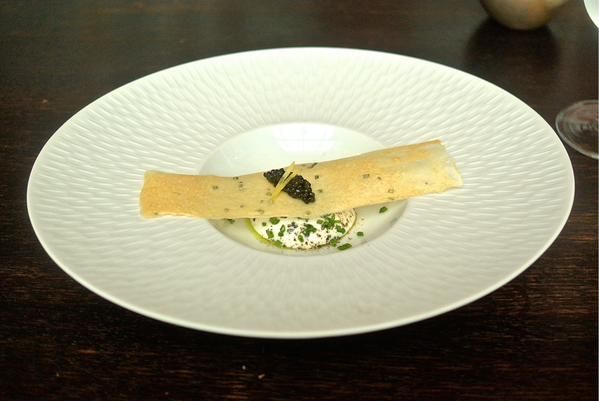 I enjoyed every dish but my mother had difficulty of with the rareness of the bison as well as the texture of the bass dish.  That just meant more for me ;-)  The meal took the better part of three hours, and it seemed to go by quickly.  The décor and setting were intimate and stylish and we got to watch the sunset over Chicago as we enjoyed our meal.
On Saturday we went to a local favorite, Fatso's last stand on 2258 W Chicago Ave.  Once again we looked over the menu and then dove in.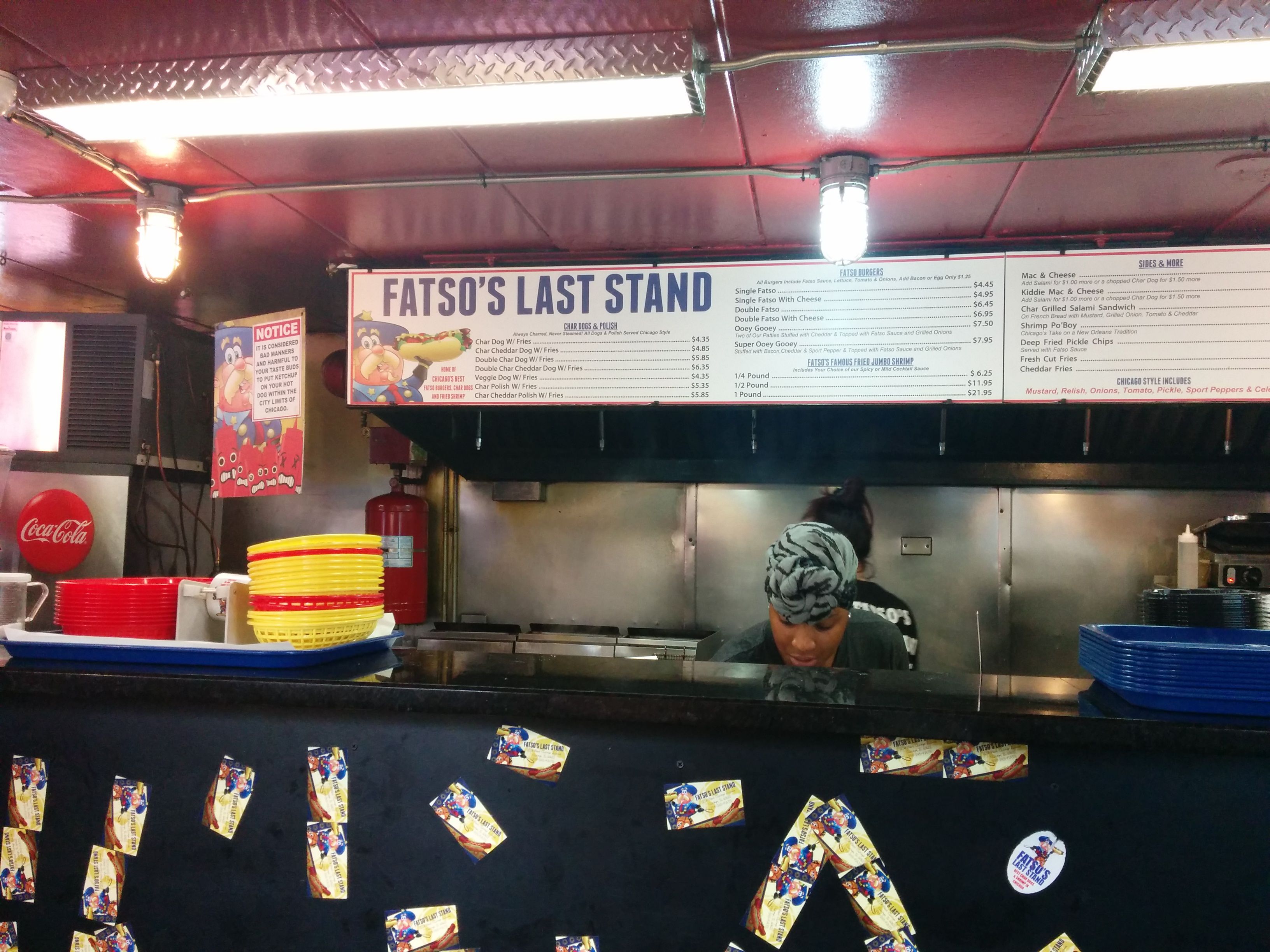 We shared a Fatso burger with cheese and bacon (everything on it), a char broiled polish with everything on it and a char broiled hot doc with everything but the pickle and tomatoes.  On top of that we had some fries and a small order of shrimp.  All in all what you would expect from this type of greasy spoon/diner restaurant.  The staff was welcoming, the food didn't take too long to prepare.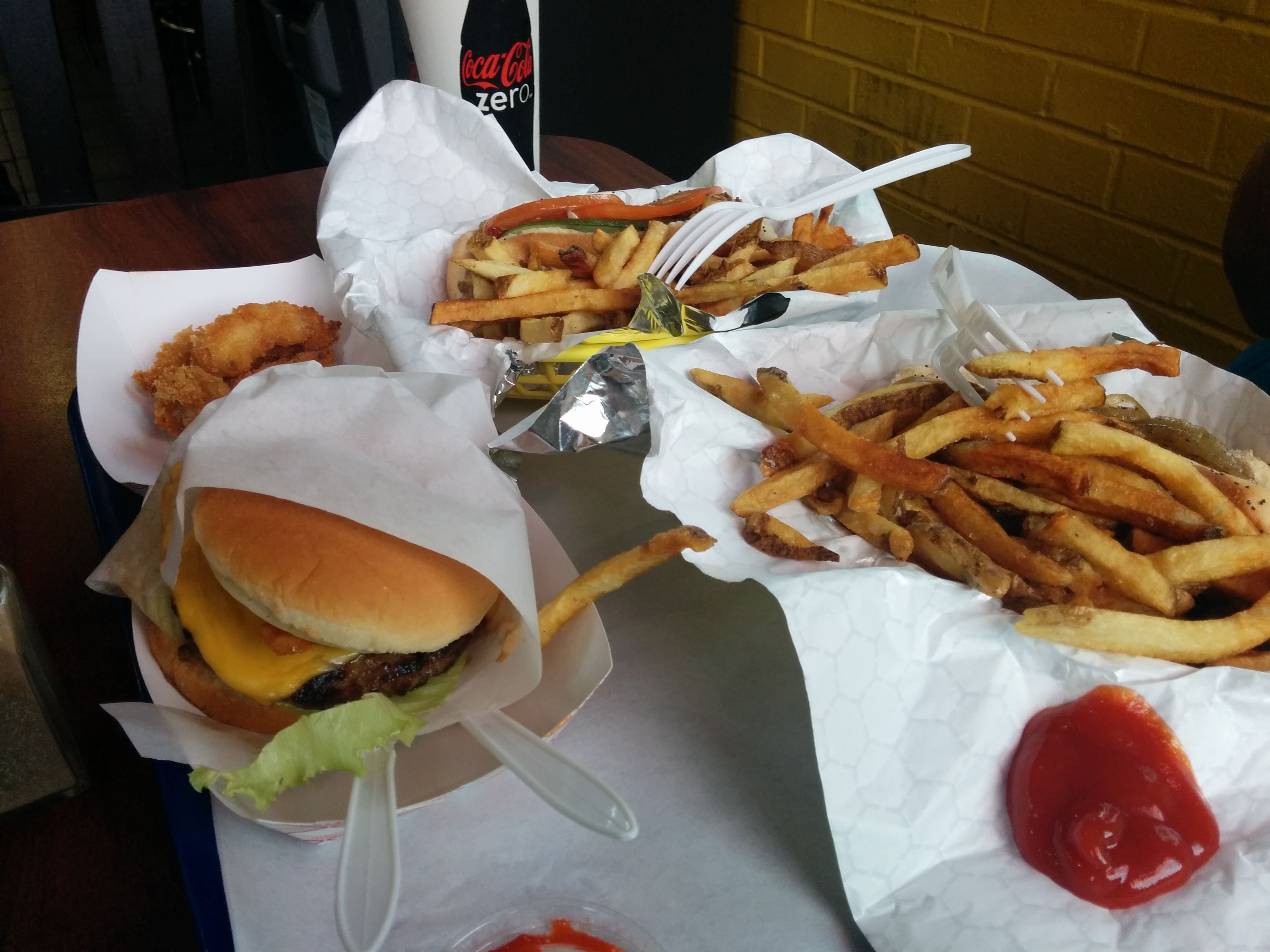 I enjoyed the char polish and the fatso burger the most.  The shrimp I felt was just average as was their shrimp sauce. I should mention that I'm probably spoiled in that regards as I'm often on the east coast and have access to a lot of fresh seafood.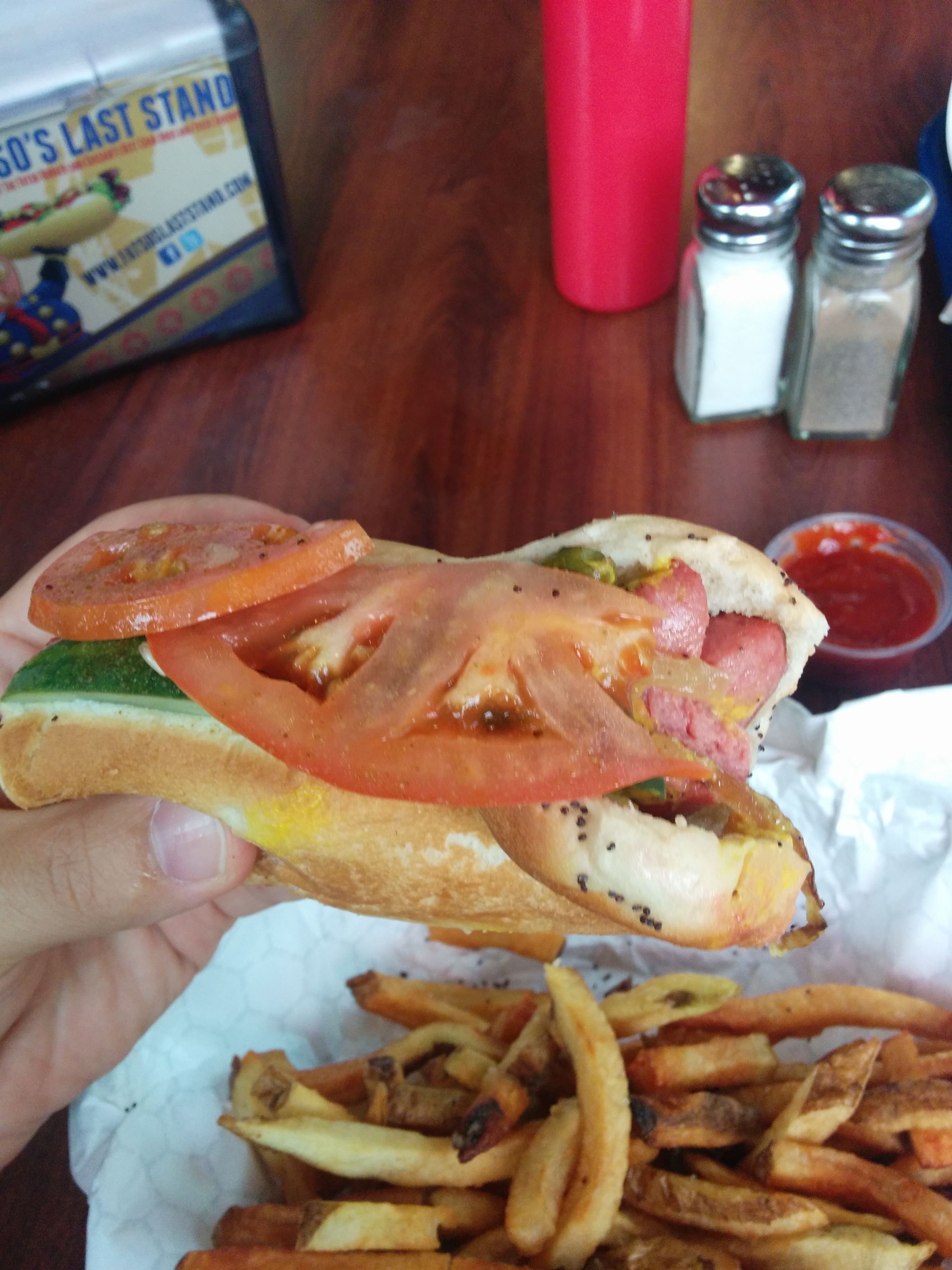 A fair meal at a fair price and wouldn't hesitate to walk in here during a late cold winter Chicago night to eat some of these goodies!
On a sadder note food wise, we also tried May May's in China town and left disappointed.  Perhaps it was the choice of dishes we had.  The portions were nice, the place was busy but we both thought our plates were rather bland.  And this is after having shared 3 of them!
Our last planned meal for the trip was the Bar Pastoral located at 2947 N Broadway St.  It boast itself as a wine and Cheese bistro.  In their own words ""Pastoral cheese shop's cozy wine bar features New American eats, glasses of vino & champagne on tap."  Here once again we looked over the menu while we drank our first glass of wine.  We went ahead and ordered three cheeses and one meat as the appetizer:  Arpea de Brebis (sheep),Bleu des Basques (sheep), Grand Mere Adrienne (goat) and the Summer Sausage (beef & pork) from Underground Meats – Madison, Wisconsin  The plate came with a few small pickles, some mustard, caramel, popcorn and honey.  A nice assorted that got our appetites going.  The bread was nicely warmed and easily torn to small pieces.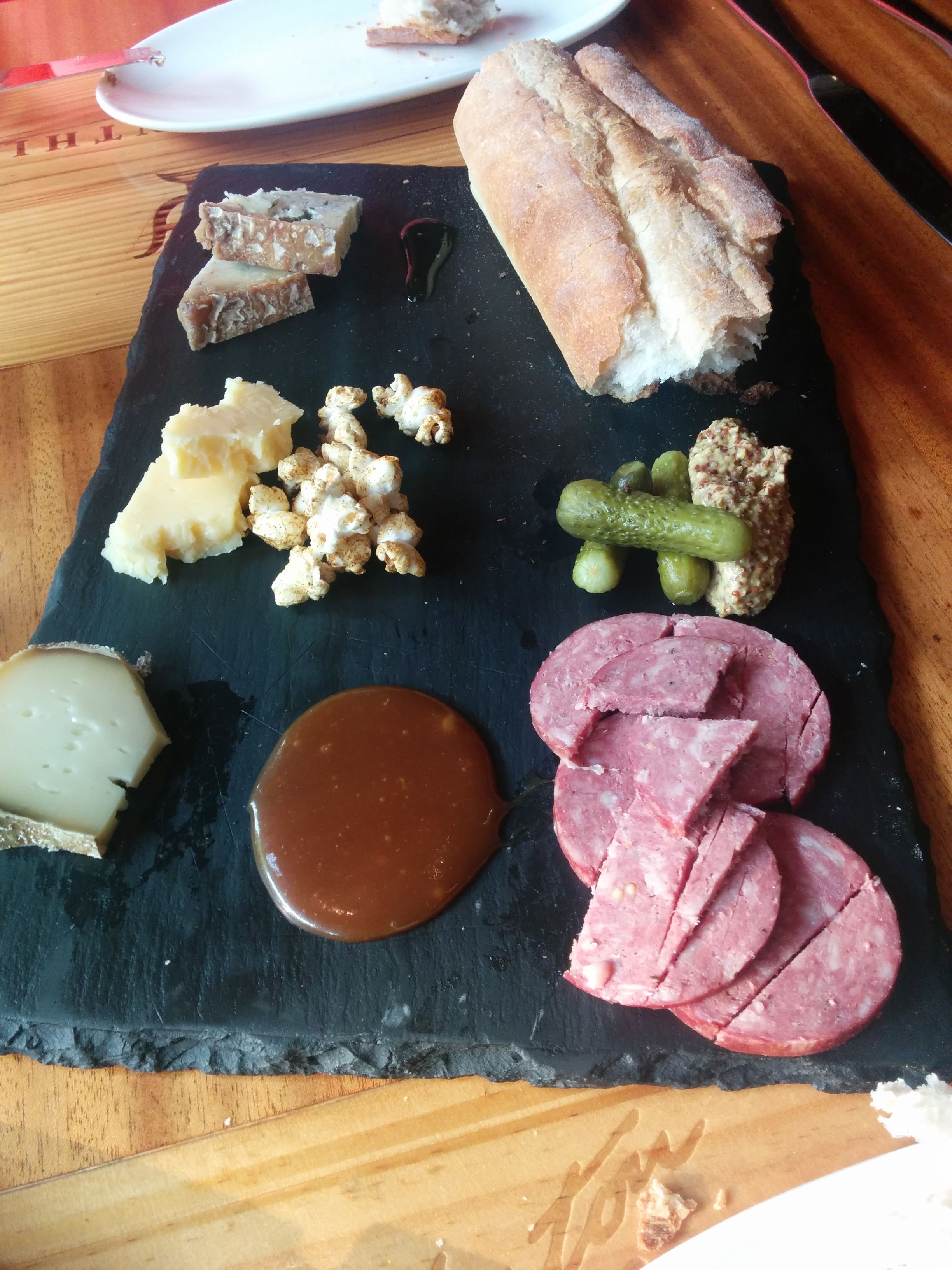 This was followed by us sharing three plates, Belgian Endive Salad: Fourme D'ambert (cow), Blackberries, Toasted Walnuts, Orange Vinaigrette.  The Parisienne Gnocchi: Cherry Tomatoes, Zucchini, Corn, Brown Butter-Lemon Sauce and finally the Mussels in White Wine Broth: PEI Mussels, White Wine, Caramelized Fennel, Arbol Chili Oil
The salad was nice and refreshing, not too bitter and went well with the wine and cheese we had previously finished eating.  The gnochhi was acceptable.  It wasn't the best or the worse I've had but I was hoping for a little more out of it.  Finally the PEI mussels we're good but the highlight for me was the Arbo Chili Oil and white wine sauce.  Once again mom found it a bit spicy but I thought it had just the right amount of heat. It was also served with a good portion of bread which was used to soak up the broth.  I wouldn't go out of my way to eat here again.  It wasn't bad food, just nothing extra ordinary.
We finished the night off at a local ice cream parlor located next to the Bar Pastoral.  Ordered ourselves a nice ice cream cone each and ate them while we walked over to take the train back to our Airbnb place.
It goes without saying that there are no doubt dozens more great restaurants we should have tried in Chicago.  With that being said I'm still very happy with those we got an opportunity to try.  I wouldn't hesitate to visit Spiaggia a second time to try their next seasonal menu offerings.  The same could be said for the slurping turtle.  If I was a local in Chicago I'd probably be there one or twice every few weeks.
Thanks for the great food Chicago, can't wait to be back!