Having recently got back from Colombia, Boston wasn't a something I had planned ahead of time.  Since I've gone from two jobs to just one, I've been making an effort to expand my circle of friends and in general just get out there and socialize more.
I had been communicating with this great girl from just outside Boston for a few weeks.  As Boston isn't too far from Montreal, we had discussed the possibility of eventually meeting up in Boston to hang out.
This would be my first time in Boston and I was looking forward to visiting several local sites.  I flew in early Friday morning and took the public transit into the downtown core.  I had done a little research ahead of time in terms of restaurants and places to eat.  It was with this in mind that I got off at "Central" stop on the red line.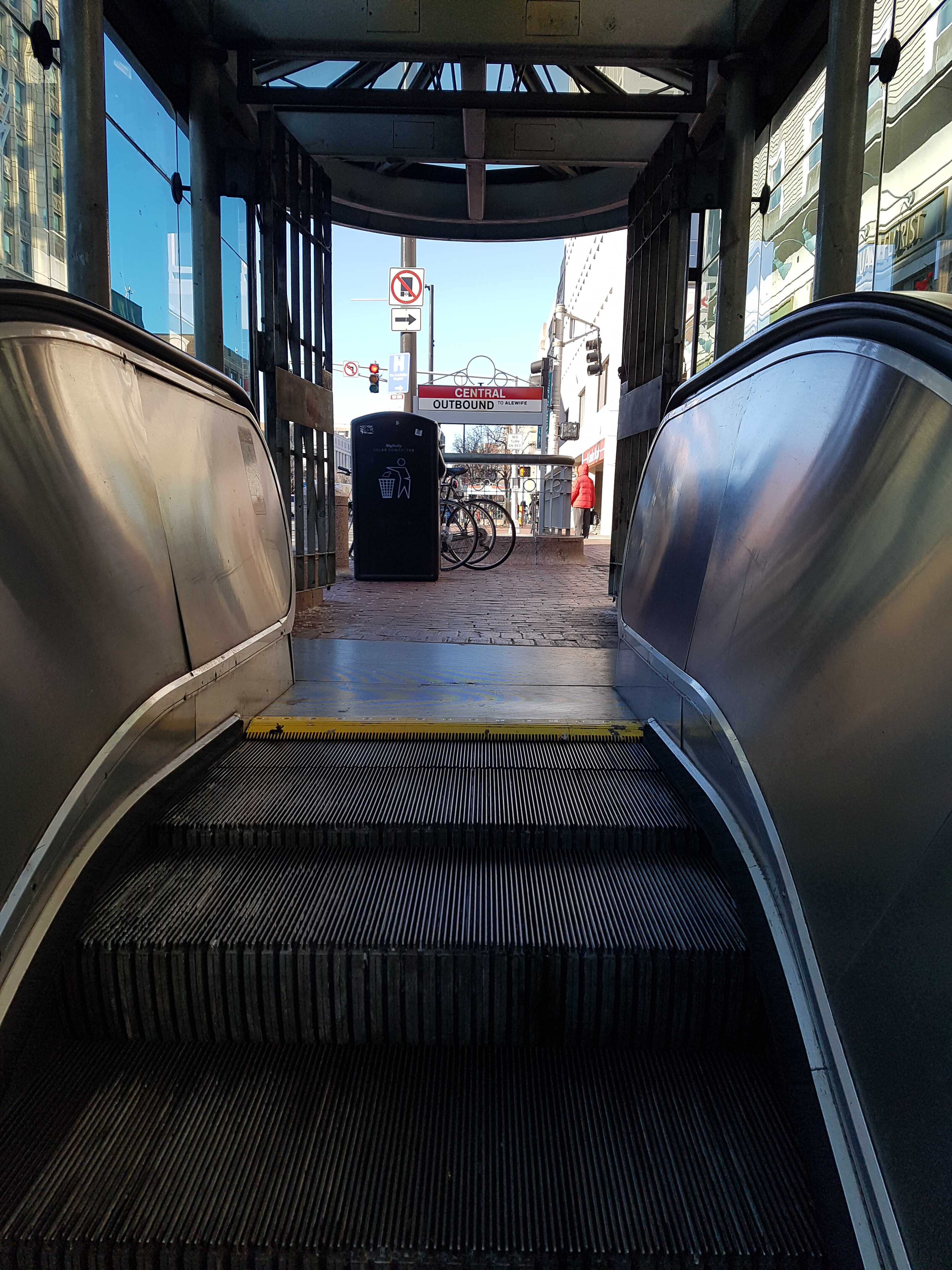 I then slowly made my way over to the coast cafe on foot.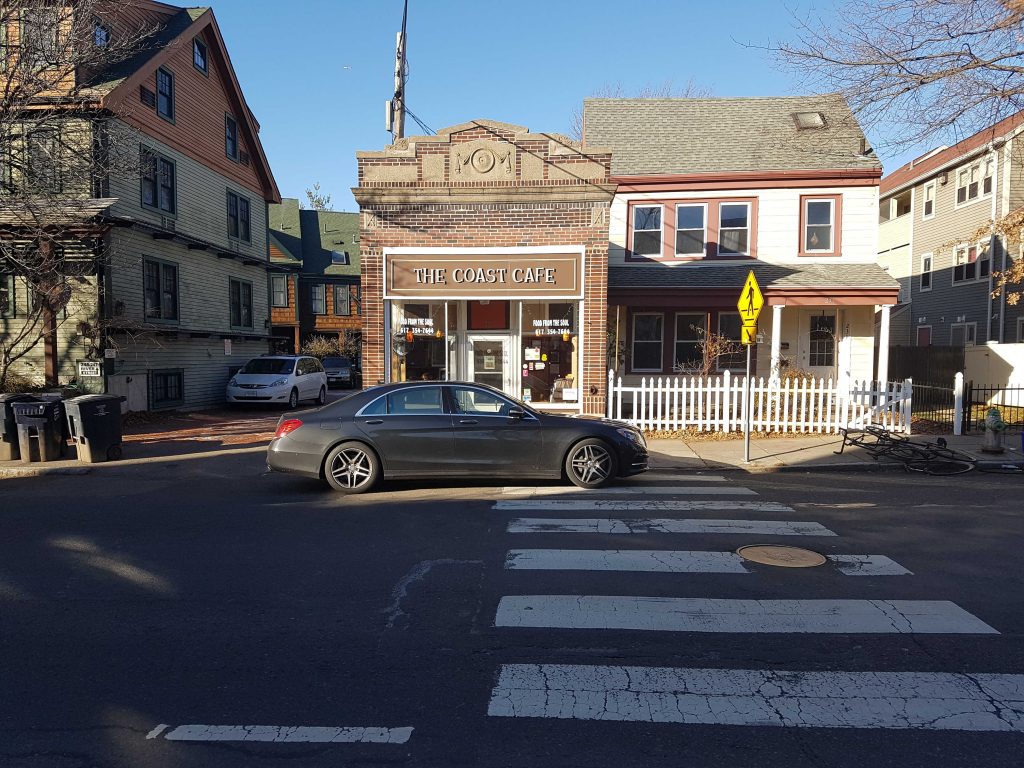 Although it was a cold day, It had been even colder when I left Montreal so Boston felt warm by comparison.  I grabbed a tasty soul food lunch at the coast cafe.  I ordered a combo plate of Fried Mixed Chicken (13.49$) with a extra side of coleslaw and a drink.  The combo plate came with two sides of your choice to choose from.  I went with the mac & cheese and beans with rice as my sides.  The friend chicken and mac and cheese were very good.  The coleslaw wasn't amazing but it wasn't bad.  The rice however was bland.  I suppose I'm slightly picky about the quality of my rice, but if I'd have to order there again I'd skip it.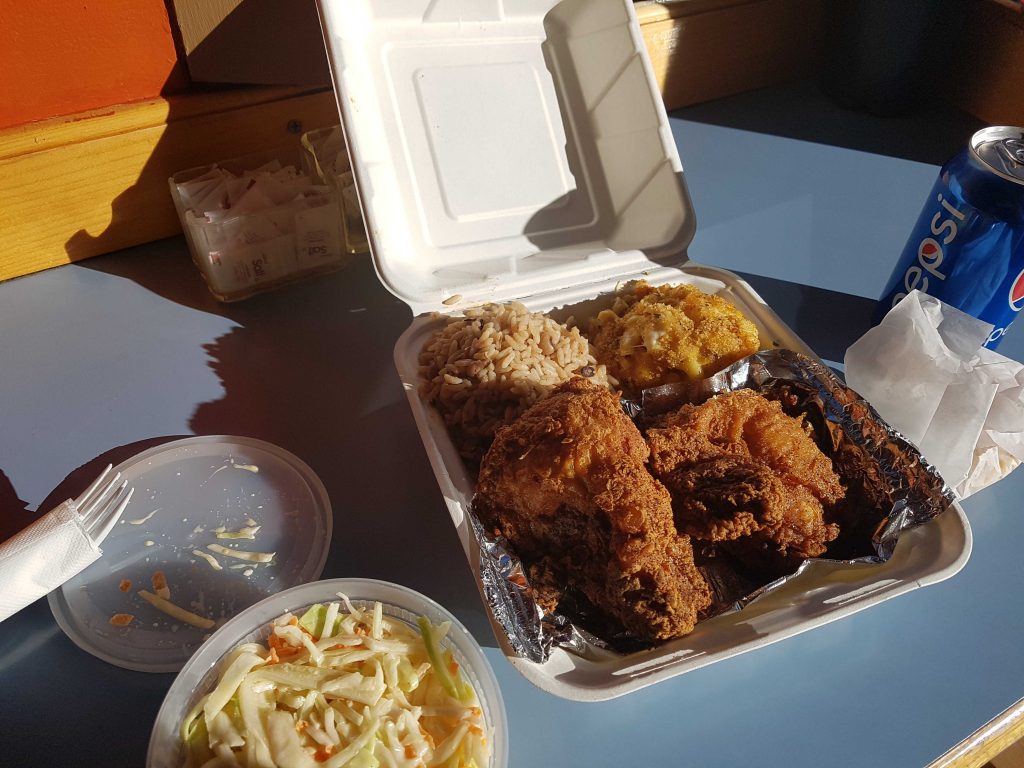 The meal also came with a small sweetbread muffin.  I had tired these type of breads before and they had always left me wondering what was so great about them.  Often times they were stale and/or hard and bland.  In contrast when I took a bite out of this one, it was soft, fluffy and delicious.  It was one of those "Ah-ha" moments and I finally understood what a good fresh sweetbread bread taste like: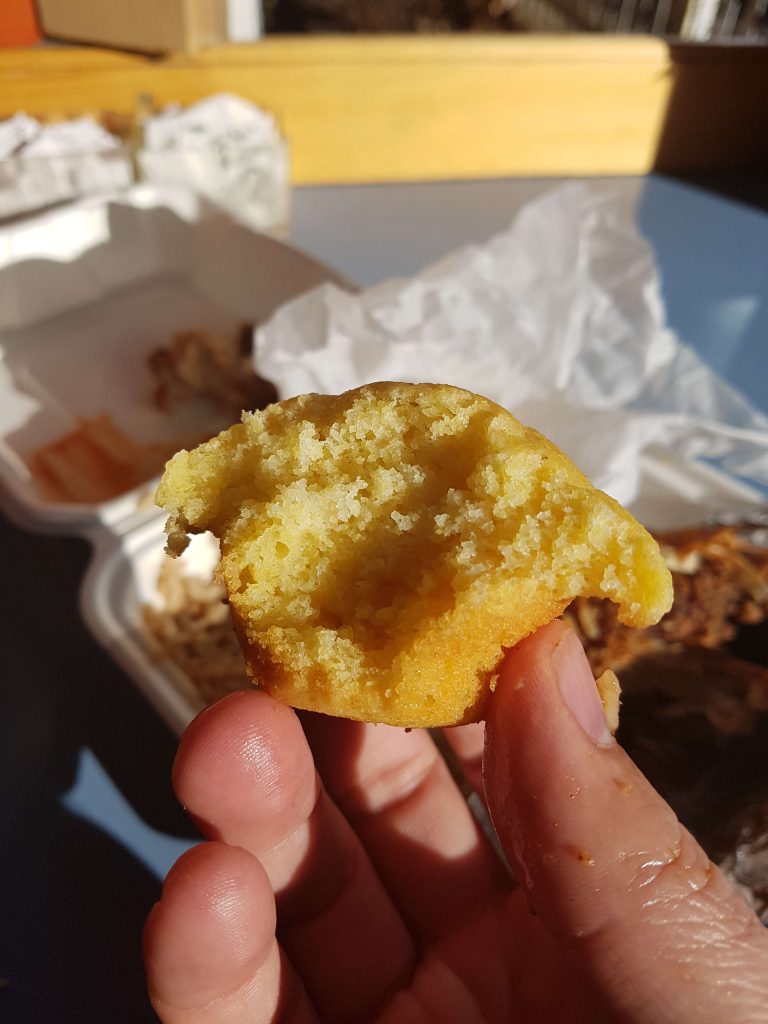 After which I walked down to the MIT museum. As a long time MIT enthusiast, I couldn't pass the opportunity to visit the museum.
Although it was a little cold, I walked from the cafe to the Museum, enjoying the local sights and taking pictures along the way.  One of my favorite shots from that walk was this building and street: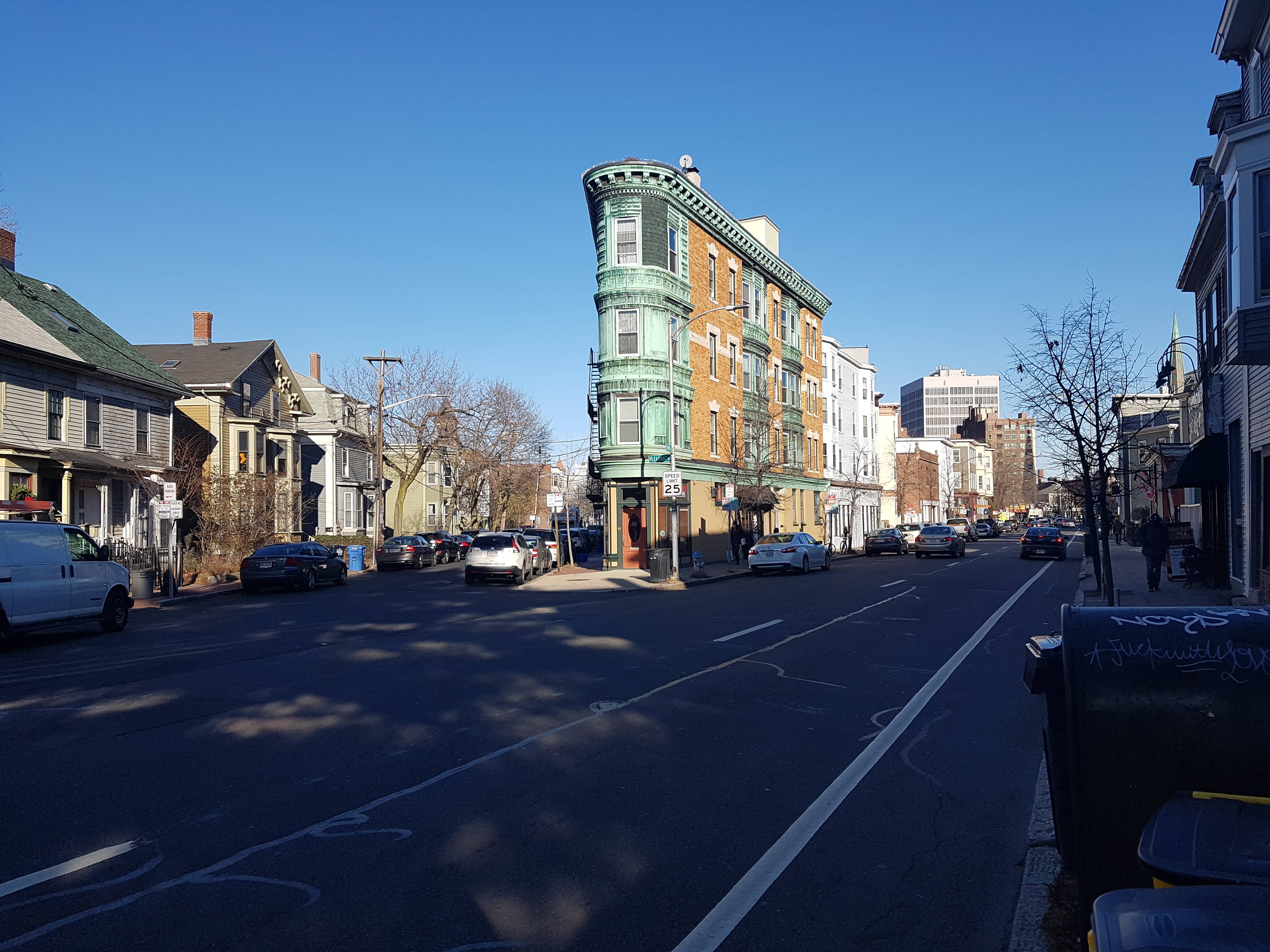 While making my way to the MIT museum I stumbled upon something unexpectedly which transported me and left me awestruck. I crossed a Paris Baguette: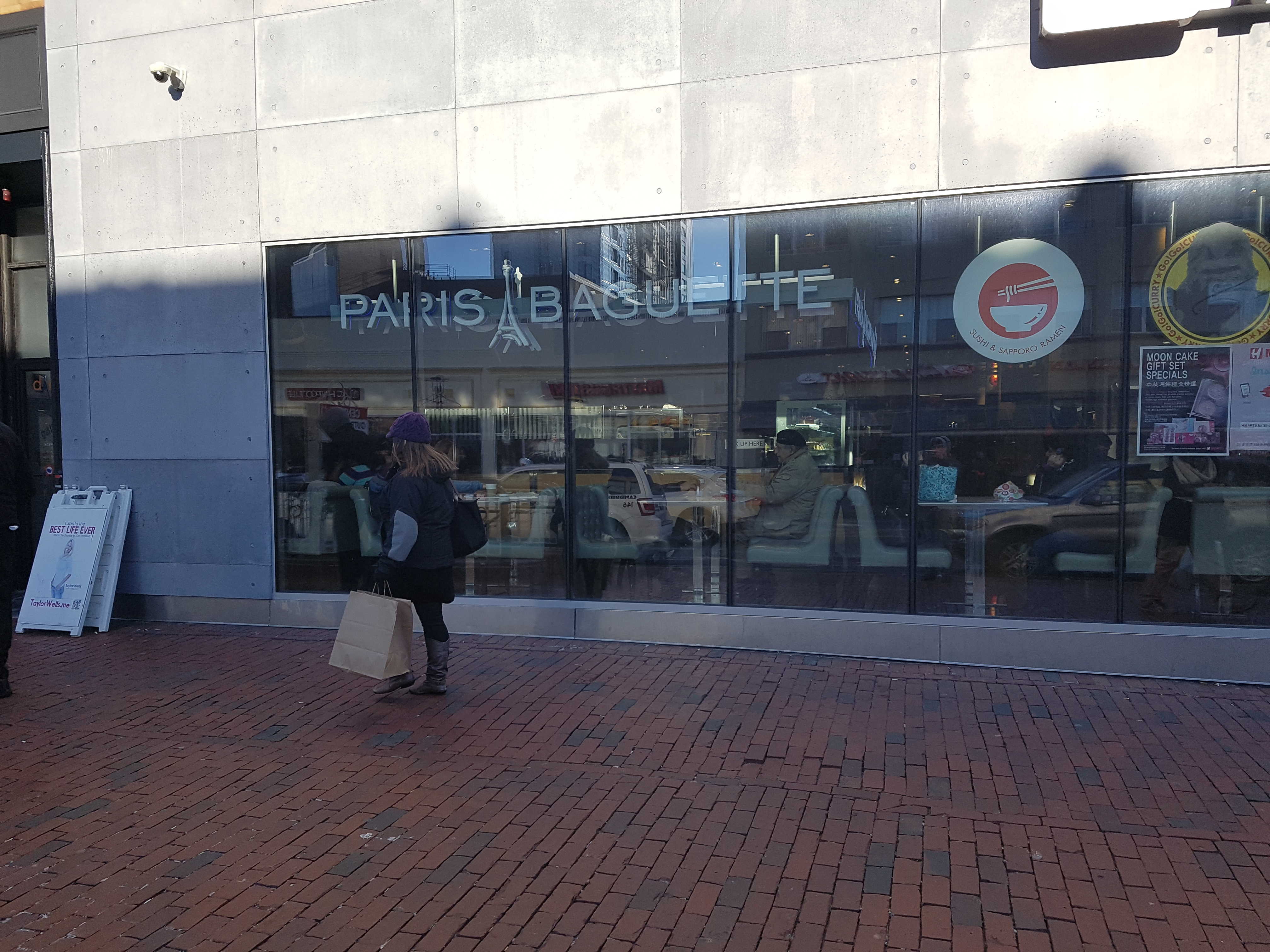 The last time I had seen one of these was when I was visiting my then girlfriend in South-Korea.  I blogged about it here.  Needless to say this brought back a flood of memories of my time in South-Korea and my then girlfriend.  Hope everyone is doing well!  I was tempted to stop in and grab something to eat but I had just finished a heavy meal at the Coast cafe so i kept walking towards the MIT campus and museum.
The MIT museum was fun.  I was there on a Friday during a cold winter day so there weren't too many visitors at the time.  It had many interactive pieces as well as several historical items.
After the museum I checked into a cheap local hotel and relaxed for a few hours before heading down to Old South Meeting House.
Every year Old South Meeting House and the Boston Tea Party Ships & Museum recreate the Boston tea party incident, which was one of the major events leading to the American revolution.
The event is divided into 3 parts.  The first part is a reenactment in the historic old south meeting house, which you must purchase tickets to attend.  They sell out every year so purchase them early if you want to attend.  I tried to find 1 ticket for myself, but because I only heard about the event a week or so before I was visiting I was unable to secure one.
The second part is a parade from the old south meeting house down to the Griffin's Wharf/Boston harbor.  It's a fun parade that had traditional drummers mixed in with the general public.  Along the way the "British" soldiers are stationed and the public is encouraged to express their dissatisfaction towards them by shouting "huzzah!" and other suggested time appropriate remarks.
Although it was after dark and fairly cold, it didn't really affect me until we got to the docks and sat down.  The bite from the cold air really started to take it's toll.  The re-enactment itself was ok.  I felt that it didn't "flow" correctly.  For example as they dumped some of the tea over board, the men on deck then proceed to empty out the cargo hold to reach additional bundles of tea.  This may be historically correct but I think for the performance it could have been better executed.
The re-enactment done, I began my search for a bank machine and some warmth.  I was out of American money and wanted to take little more out so that I would have some on me for the following day.  Wandering slowly away from the harbor, I eventually found myself at Faneuil Marketplace.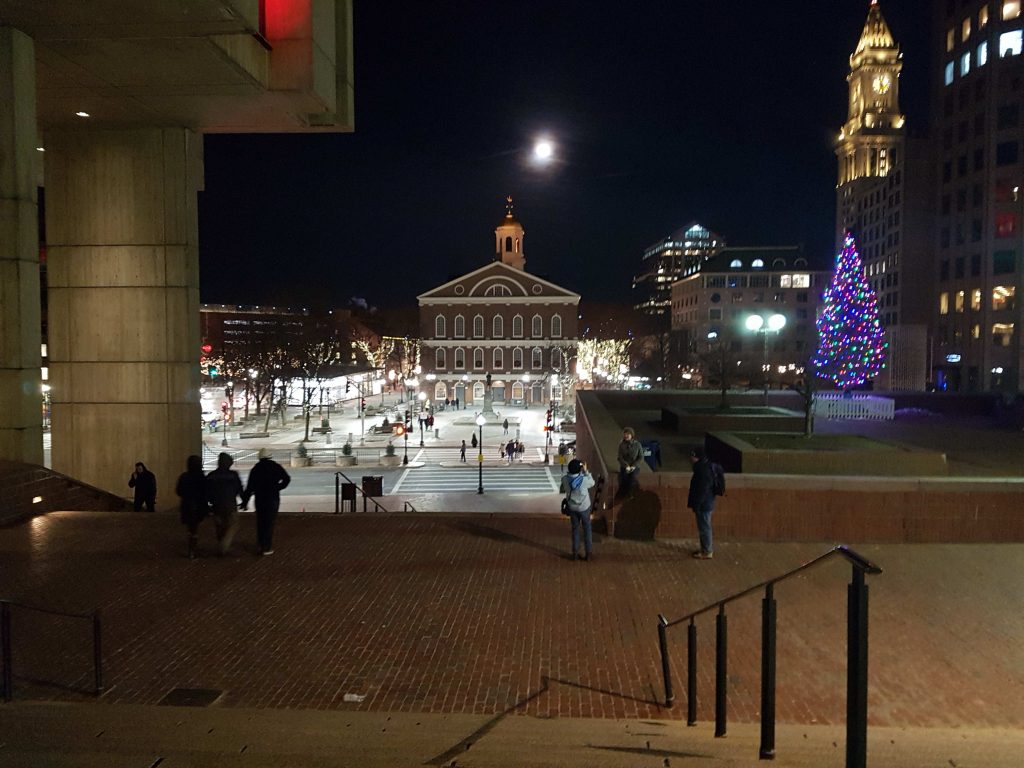 I had seen the crowds and lights from a distance while making my way towards the old south meeting house.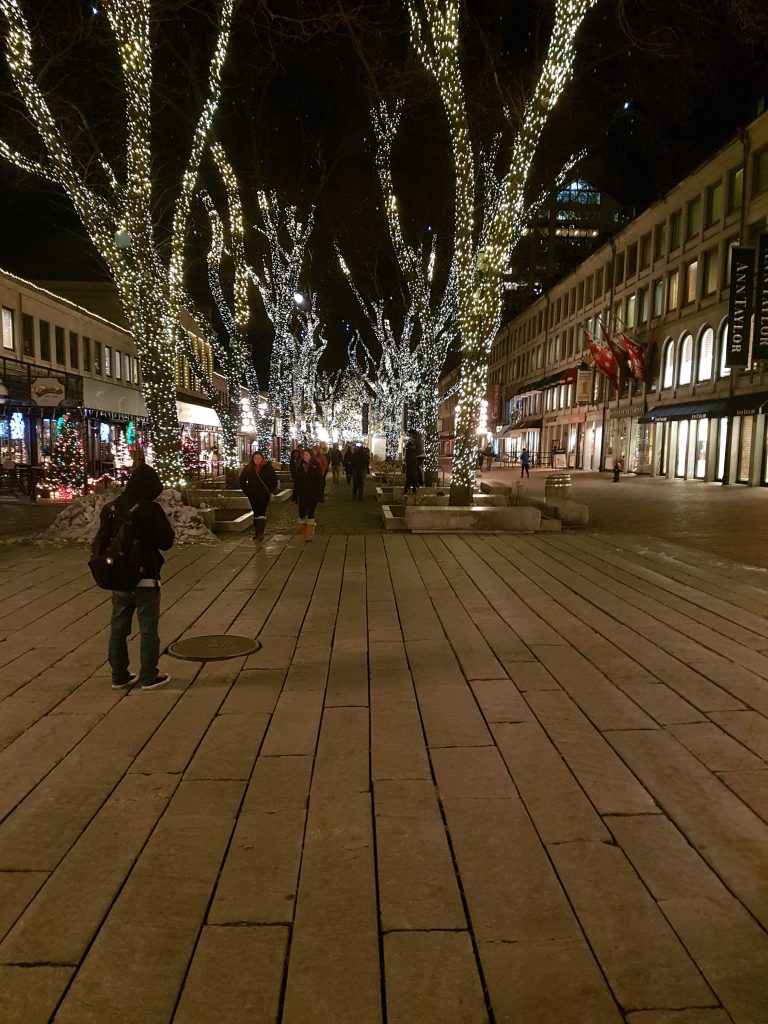 I was a little hungry by this time and I walked down the length of Faneuil market place soaking in the sights and smells.  I eventually grabbed a large hot chocolate, connected to the wifi and figured out how to get to my next destination "Anchovies" restaurant.  Hot chocolate done I braved the cold once more.
After a little walk I found myself in front of Anchovies: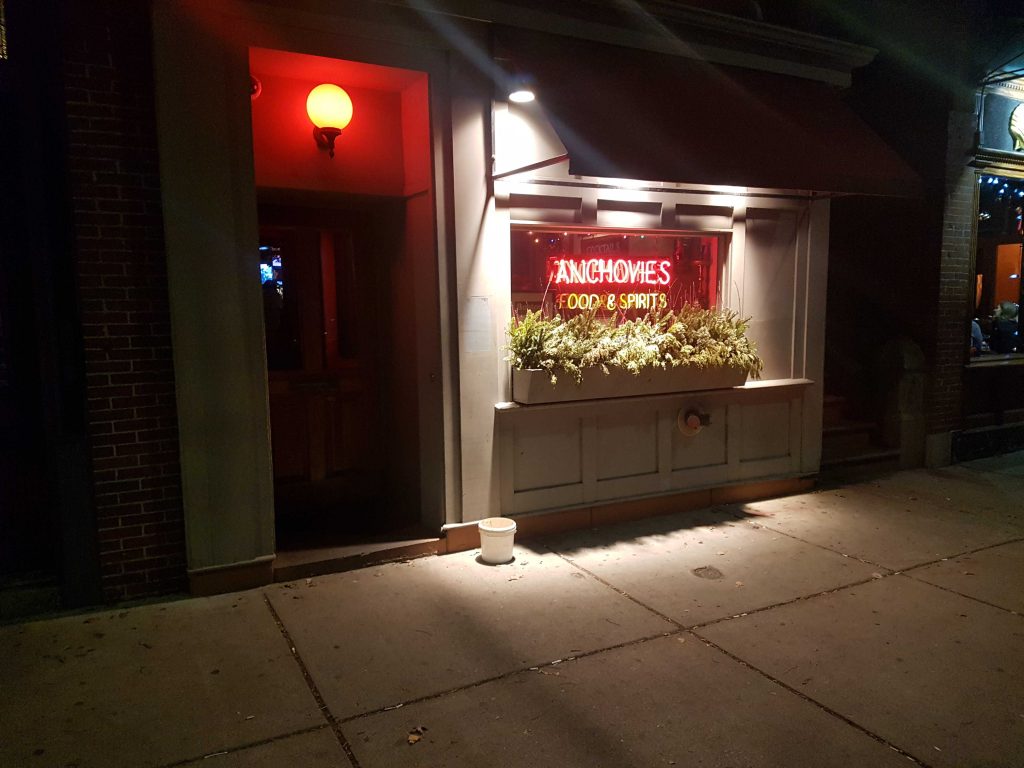 The food was great and the atmosphere friendly.  I had the spaghetti and meatballs along with a salad and a side of garlic bread.  The food was tasty, the prices were reasonable, the service adequate and the atmosphere was warm.
The meal done, I then made my way to Bukowski's tavern.  Which if I'm honest was a disappointment.  I had only done a little bit of reading up on the tavern and in my mind was expecting a little more from it.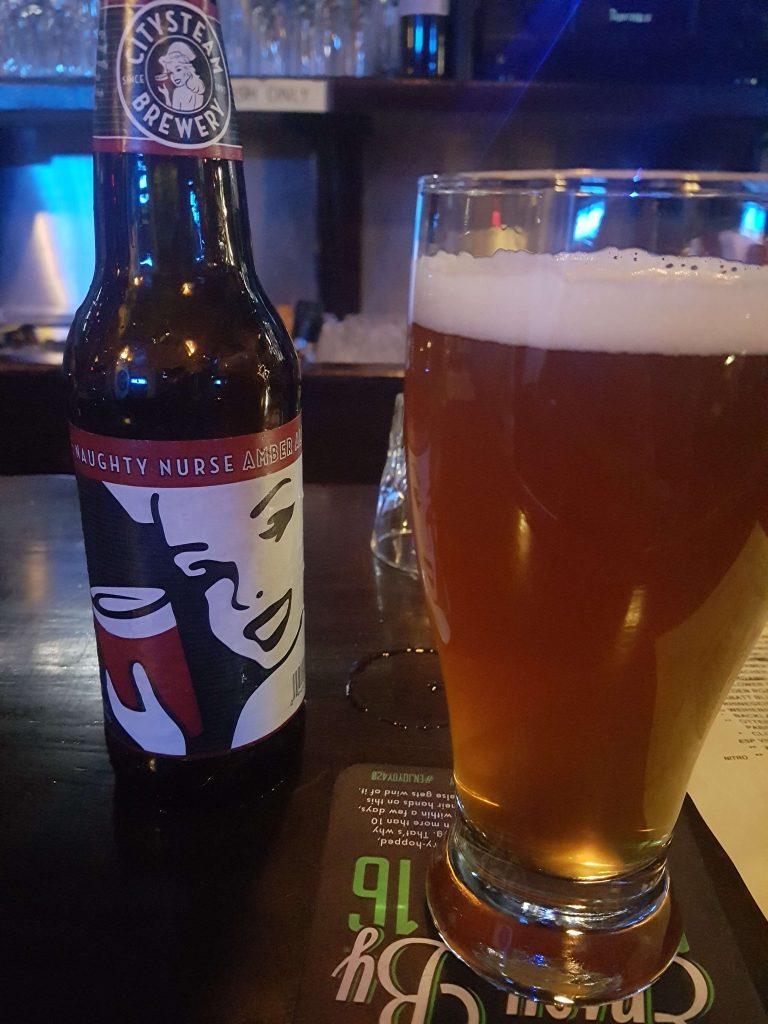 Once inside it was a one counter bar with a row of tables along the wall beside it.  I got to taste a few good local beers out of the experience so it wasn't all bad.  I had 3-4 pints while there before finally making my way back to the hotel on foot.
The walk back to the hotel was beautiful.  I love wandering the streets of a city at night.  I walked along Storrow drive which borders the Charles river.  Snow covered the ground, the temperature had risen and the night didn't feel as cold.  This path also took me along the Boston University campus.
A got some shots of the Charles river at night but I think the real highlights of the walk were the rabbit I crossed and this beautiful picture of the Marsh Chapel.
I grabbed a large bottle of water along the way and finally made it to my hotel at a reasonable hour.  The following day I was set to meet my friend for an early coffee/brunch.  We decided to meet at the flour bakery near Harvard University, which was centrally located to the both of us.
When I left the hotel in the morning it was snowing heavily.  Once more I walked along the Charles river, slowly winding my way towards the Harvard square/university.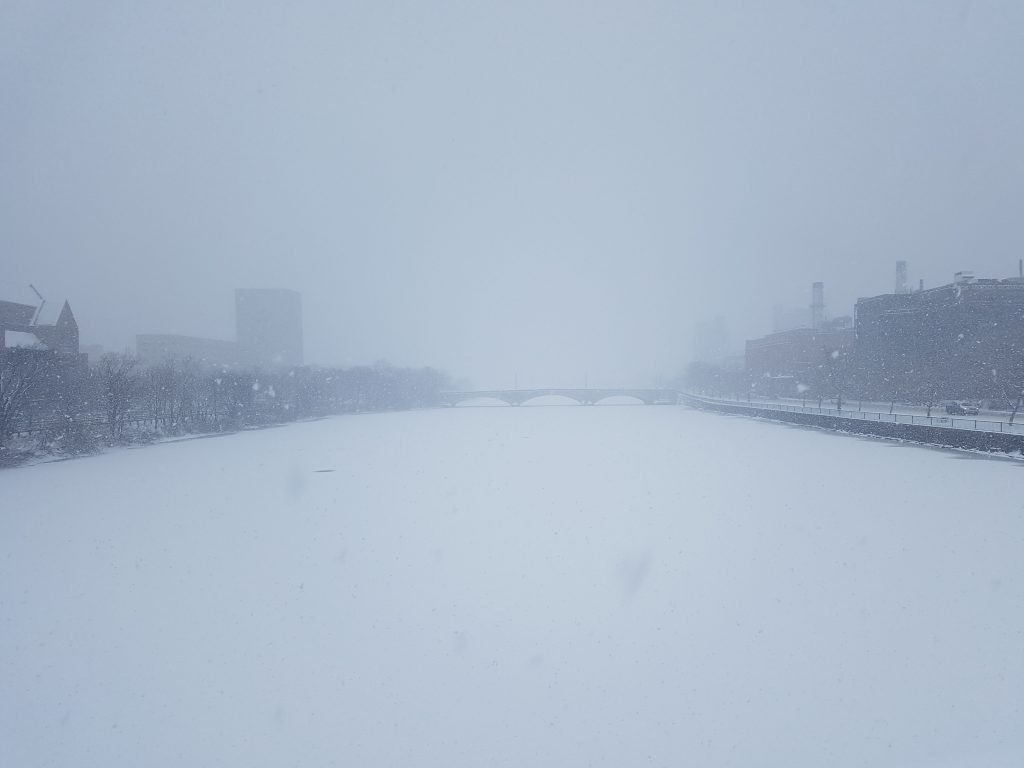 I got a call from my friend explaining that the coffee shop was full and we agreed to meet at a different coffee shop instead.
I was oblivious to my destination change as I admired the scenery.  When I reached Harvard square I quickly realized that I wasn't certain which coffee shop she was in.  A quick phone call and conversation later we discovered we were almost across the street from each other.
We met up and walked a little until we stumbled upon a restaurant serving brunch. We sat down and had what I would describe as a overpriced and underwhelming brunch.  Eggs and fries for brunch, really?
Brunch done we wandered down to my new hotel so I could drop off my bag and check in.  I stayed at the Verb in Boston which is located minutes from Fenway park and brands itself as a Rock and Roll boutique hotel and it certainly lived up to it's reputation.  It terms of hotel it has a great atmosphere to it.  Each room had a vinyl disc player and when reserving the room they asked if there was a preferred band.  If you chose one they would then try to have a few of their disc in your room waiting for you at check in.  Alternatively they had a large vinyl collection at the check in desk to choose from.
I checked in and we hung out for a few hours while we waited for the restaurant attached to the hotel to open.
We only found out afterwards that the restaurant had been reserved for a private event.  Looking at the list of restaurants I had previously researched we found one which wasn't too far from the hotel.  We made our way down to Mei Mei's jumping puddles of slush and snow.
Mei Mei's was a 20 minute walk from our hotel and completely worth it.  The only thing that was a little bland was they kale salad.  It's not something I order often so I asked my friend what she thought of it and she's the one who mentioned it was a little lacking.  Highly recommend this place regardless.  The rest of the dishes were amazing and reasonably priced.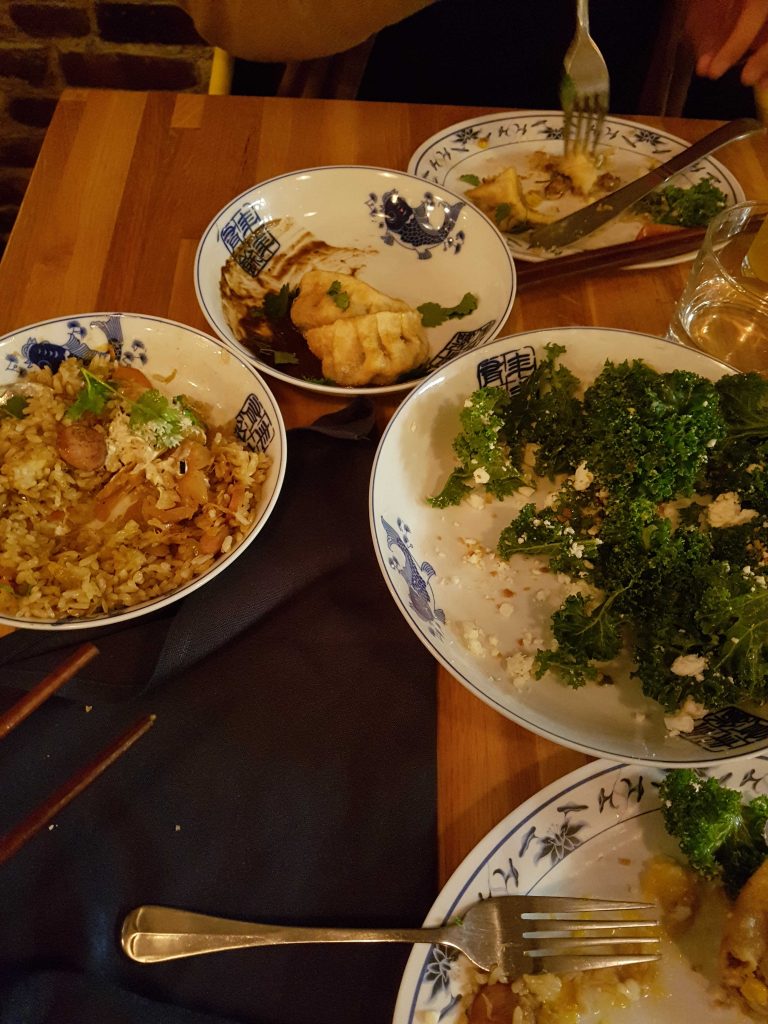 We finished Mei Mei's and wandered to another restaurant close to a T train station and shared a few more drinks before my friend had to head home for the night.  She still had some distance to cover before getting in.  Throughout our time spent together we rode the public transit system and I always enjoy taking pictures of the various stations.  Here are some of them.  The busker was singing "Take it easy" by the eagles.  Somehow felt very appropriate:
Boston has this Citgo public advertisement sign. The sign cycles through a basic animation.  Although it's not a neon sign in wet, cloudy, foggy weather it had a blade runner feel to it.  I wish I would had taken the time to capture it on that cold foggy cloudy night. It looked surreal.
The following day I made my way back to Montreal.  I had a blast hanging out with my friend and it was a great first taste and introduction to Boston.  I Look forward to coming back.
Finally, I snapped this picture while wandering the streets.  Keep it real Boston: