Fantasia 2016 has come and gone.  This year was the festivals 20th anniversary.  Since first attending the festival a few years ago it now has become an annual tradition.  Here's the 20th anniversary poster: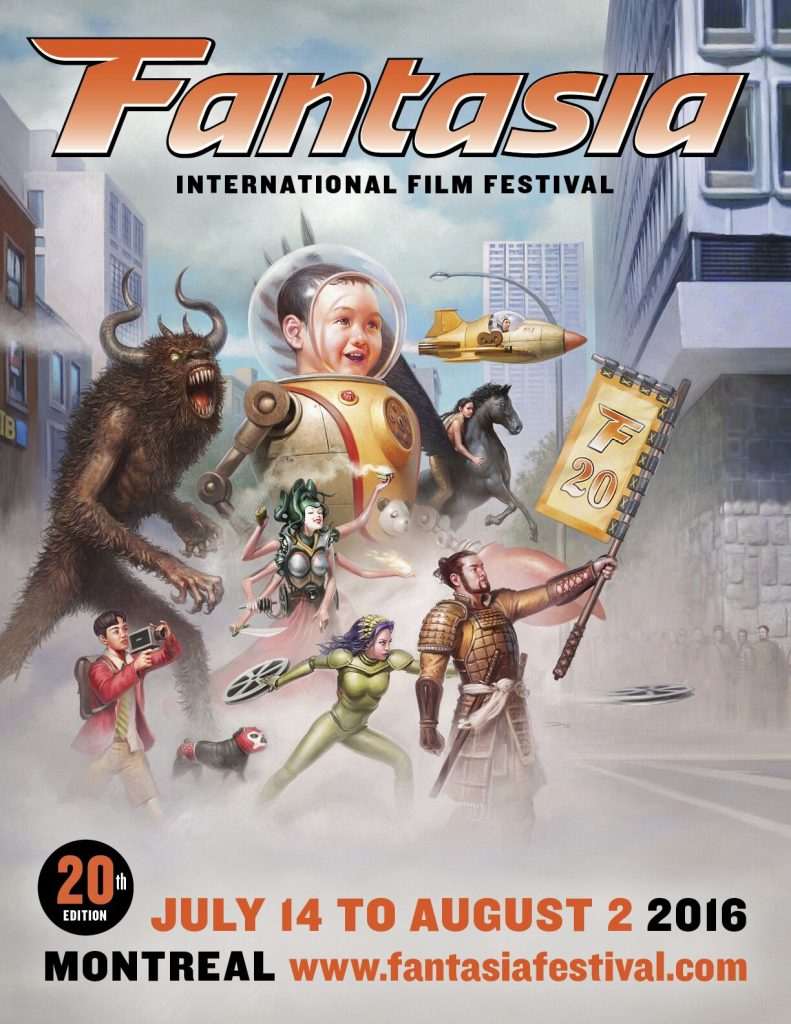 This year I went ahead and purchased two 10 pack tickets, for a total of 20 tickets.  I also took a week of vacation time at the start of the festival.  Going a step further I also purchased one of these small tripod chairs.  It's just the right size to stuff in a backpack and use while you're waiting in line for the more popular movies (opening and closing nights of the festival, among others).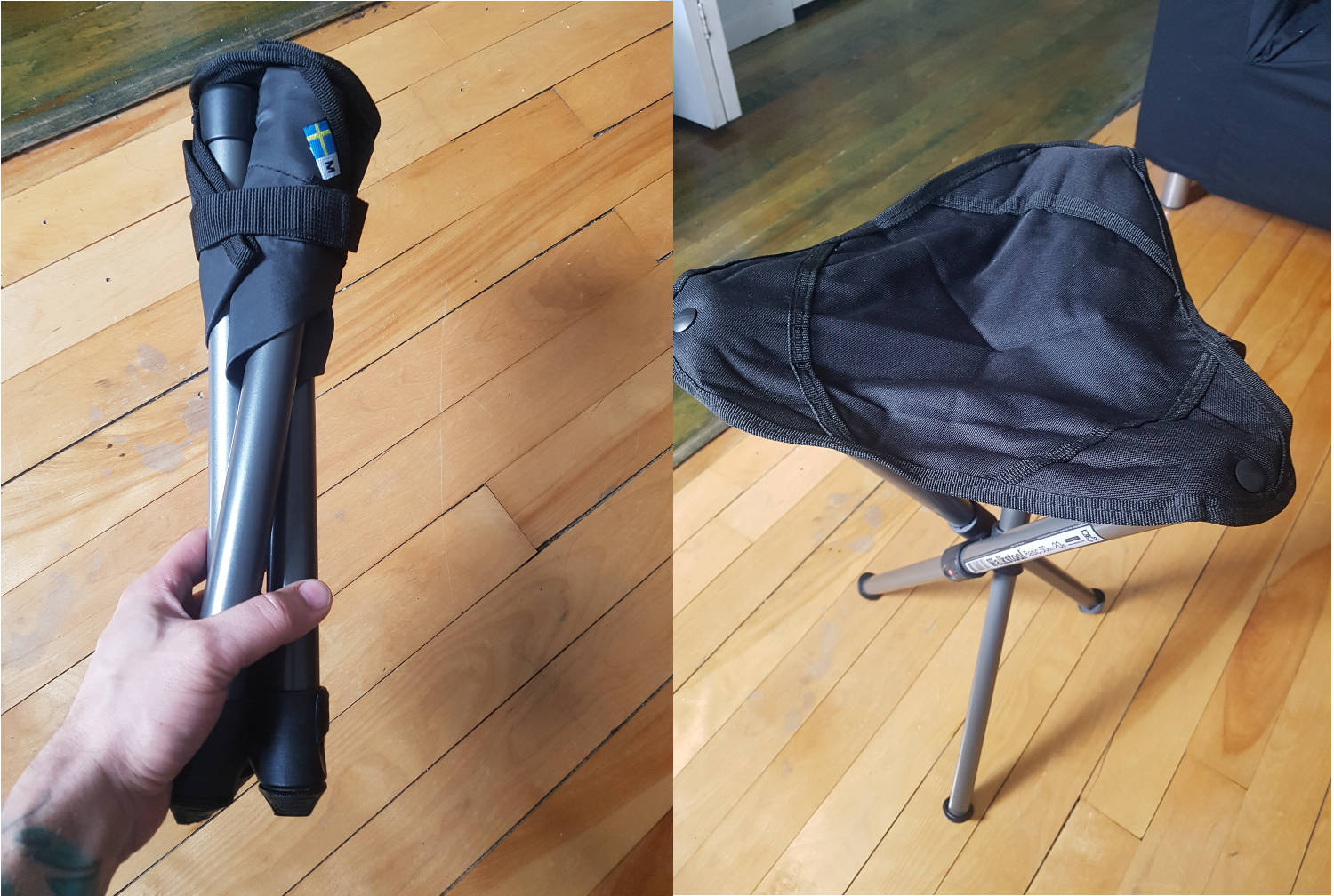 The reason for the chair purchase is simple.  I like getting in line early for the movies I'm going to attend.  Part of the fun at this festival is getting in line and talking with the other festival goers.  For the more popular movies lines will begin several hours ahead of time.  Standing for an hour or more can cause your legs and back to start to ache, and being able to pull out this compact little chair to sit for 15-30 minutes is perfect.
This year I had a long list of movies to catch.  Lets get started with the spoiler free reviews!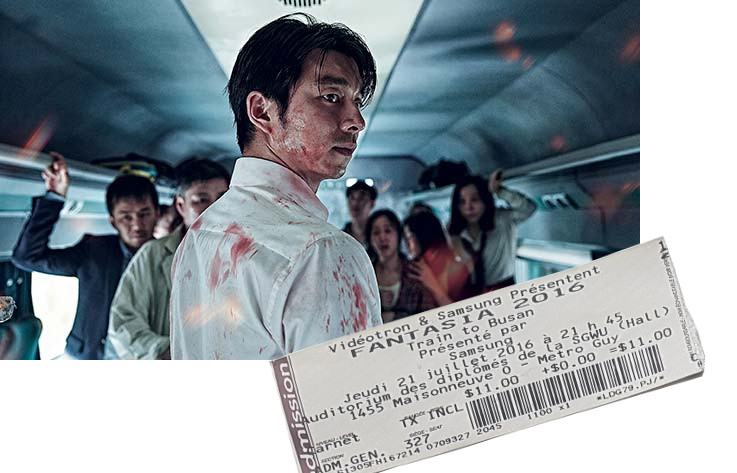 A Korean Zombie film?  There was no way I was going to miss this film while it was being shown at the festival.  As is often the case I try not to read too much about the films i'm going to see other than to perhaps get an idea of the context.  In this case I hadn't read anything.
While visiting South Korea several years ago I had taken the very same train to Busan.  The KTX fast train.  Seeing the movie primarily set on the train itself brought back a flood of memories.  Enough reminiscing, onto the film.
As far as Zombie movies and Korean cinema go, it was a fun and enjoyable film.  South Korean films often leave the endings open.  That's to say compared to a lot of American films there isn't always a happy ending and they don't always happily live ever after.  The movie had a small twist in terms of zombie behavior, which is something i don't believe had been used before in cinema.  I also really enjoyed the ending.  Without ruining it for anyone, I thought for certain that it would be one of those "no survivors" but was pleasantly surprised.
The movie is currently on Netflix Canada. Definitely worth watching it if you're a fan of Zombie films.
International Sci-Fi Short film showcase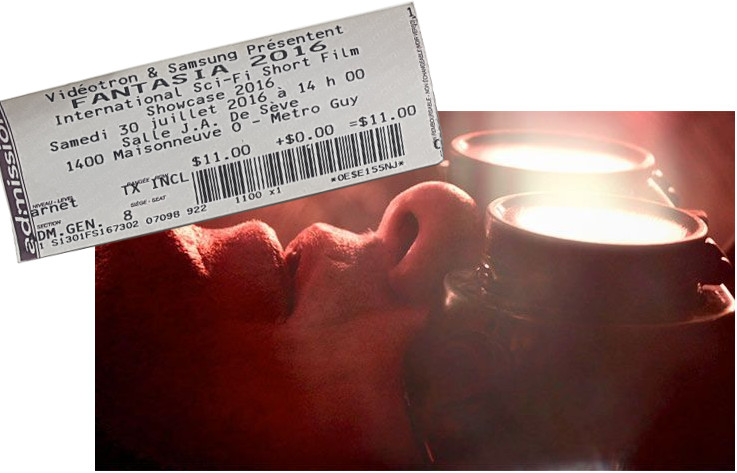 What a pleasure it was to see so many Sci-Fi short films.  If you're considering attending Fantasia and are wondering whether or not you should attend a show case I would invite you to do so without hesitation.  As the title suggest it was a collection of short films (anywhere from a few minutes long to 10-15 minutes).  There were for me a few that stood out, but the real star of the showcase for me was a short film about an astronaut/explorer stuck on a foreign planet, with his oxygen running very low from Estonia, Carlos Lesmes's TAKE OFF. 
Spoilers follow: In an attempt to save himself he opens a portal and send a communication device through it.  This device ends up appearing beside a young girl who's playing with her friends in the forest.  He attempts to communicate with her to get some help.  The little girl unsure of where this device appeared from and where the voice is coming from basically ignores his plea for help and throws the device back through the portal.  The short film ends with the astronaut alone of the planet as we see the darkness of space surround him.  For a short film, it took us all on an amazing emotional journey.  Loved every minute of it.
There was a second film which stood out, where a man has found a way to travel back in time.  Unfortunately his discovery occurs at almost the same time as his wife is murdered.  In an attempt to save her, he keeps going back to the day where he discovered the ability to travel but this causes harm to himself due to his method of traveling.  This beautiful and short film conveyed a longing for love and love lost all in a sci-fi vibe.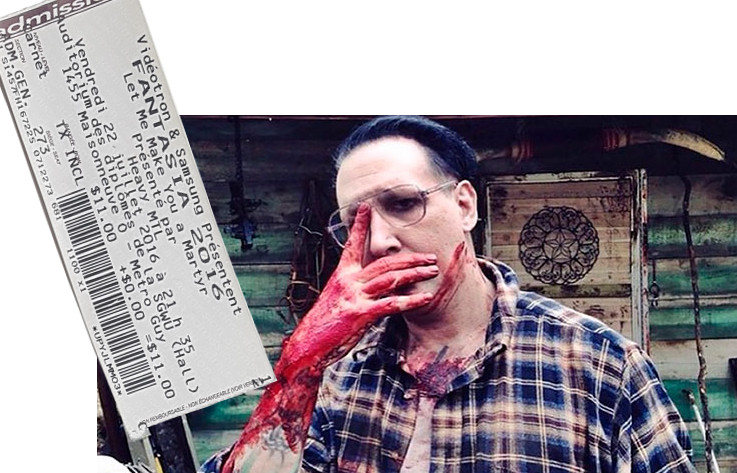 A story several years in the making.  The writer/producers of the films were in the room for the premiere.  Several Marilyn Manson fans were in attendance as there was a discussion about the lead singer being there for the premiere.  This was quickly yet politely dismissed by the producer/writers.  They also explained that the initial idea for the story had begun in high school and that they had been written and working on it for close to 15 years if my memory serves me right.
The film itself had a gritty feel to it.  I found it to be enjoyable and the characters engaging enough for a "hitman" type movie.  Nothing too gory, bloody or obscene.  Some good suspense, with decent story telling.
Karaoke Crazies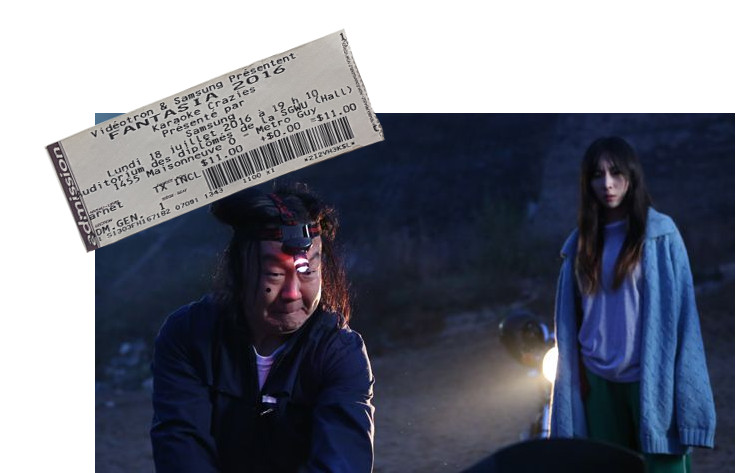 What a funny yet dark film.  It follows the story of a small basement Karaoke owner as he struggles to keep his business profitable.  Along comes a young girl looking for a job as a hostess. She's more interested in playing video games than performing her hostess duties.  Realizing that if the business doesn't pick up she might not have a place to work she improvises.  A second more vivacious and mysterious hostess eventually arrives.  This is a hard movie to discuss without providing any spoilers.  What I will say is that it'll make you laugh, make you cringe, maybe make you a little mad and quite possibly make you cry.  A dark comedy is perhaps the best way to describe it.  None the less I would recommend watching it, as it's a fun ride.  Not for children.
The Bacchus lady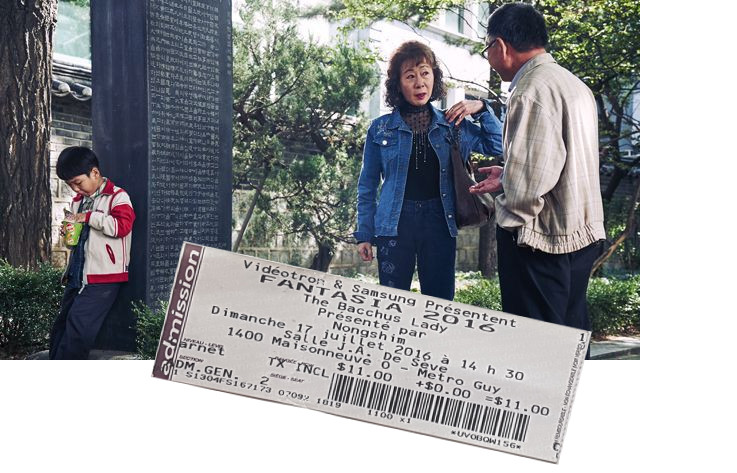 What a fucking masterpiece in humanity, acting and story telling.  The main actress here does a mesmerizing job.  The subject is a difficult one to address.  South Korea doesn't have a social safety net for the elderly (or at least this is what the film discusses).  In order to supplement her income an elderly lady also works as a prostitute.  The story follows this lady and she unwittingly becomes the guardian of a small boy who ran away from his mother.  His mother was from another country and had a child with a Korean man who happens to be a doctor and also disavows the child.  When she confronts him and he refuses to acknowledge his child, she looses her temper and stabs him with a pair of scissors.  From here the movie really takes off.  This is a story of life, love, humanity and struggle.  This was one of the top picks of the festival for me.  It also brought back so many memories of South Korea.  Can't recommend this film enough.  Youn Yuh-jung (윤여정) the main actress was absolutely phenomenal in this role and she and the film won several festival prizes.
Creature Designers the Frankenstein Complex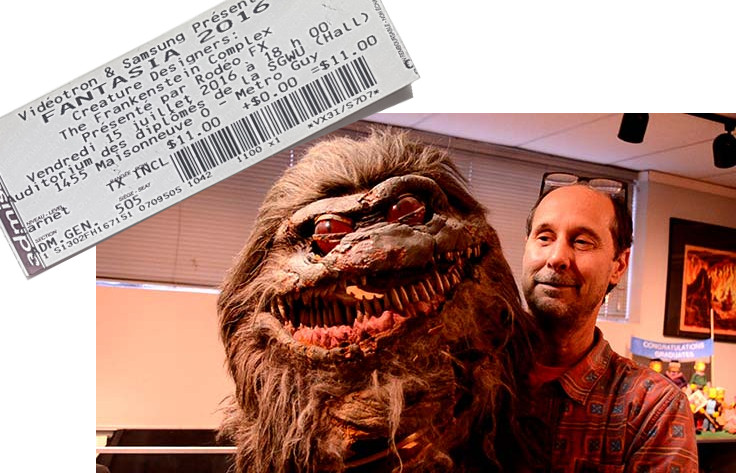 What a fun historical rundown of the special effects industry via cinema.  Interviewed were some of the greats of the special effects movies. Guillermo del toro spoke at the end of the film if i'm not mistaken and was given the Cheval Noir award.  I say if i'm not mistaken becacuse I'm writing this up a little after the fact.  I do remember him speaking, just don't remember exactly if it was before or after the showing.
Terraformars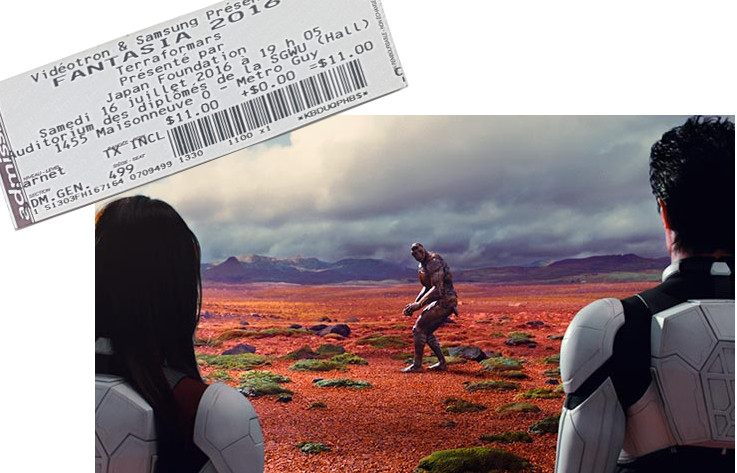 I went into terraformars not knowing much about it.  I knew it was Japanese, based on a manga magazine/book about, and aliens that lived on the planet. This was a special effect action film.  A group of individuals are chosen and mutated in order to go to mars and deal with the possible aliens inhabiting it.  Comical Japanese haircuts and fights scenes.  This was one of those sci-fi actions films you go into not expecting too much and it's exactly what i got.  You're not missing anything by skipping this movie.
Kickboxer Vengeance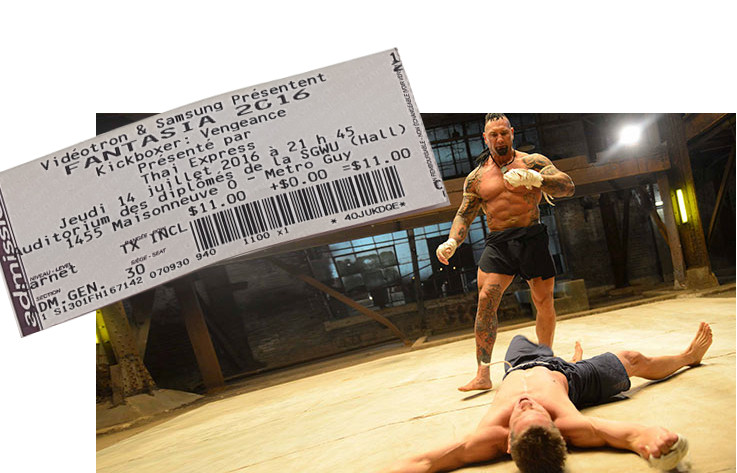 Fantasia tells me this was the world premiere of the film starring Jean-Claude VanDam, Battista (an american "wrestler") and Alain Moussi.  George St-Pierre even makes a cameo appearance.  I wanted to see this film at fantasia because of the people in attendance.  The rambunctious crowd yelled and hooted anytime we had some decent action on the screen. The story covers a young man who travels to avenge the death of his brother.  Fight scenes, kungfu etc.  Not the greatest action film ever made, but with a crowd like fantasia surrounding you, it makes for an entertaining showing.
Too young to die!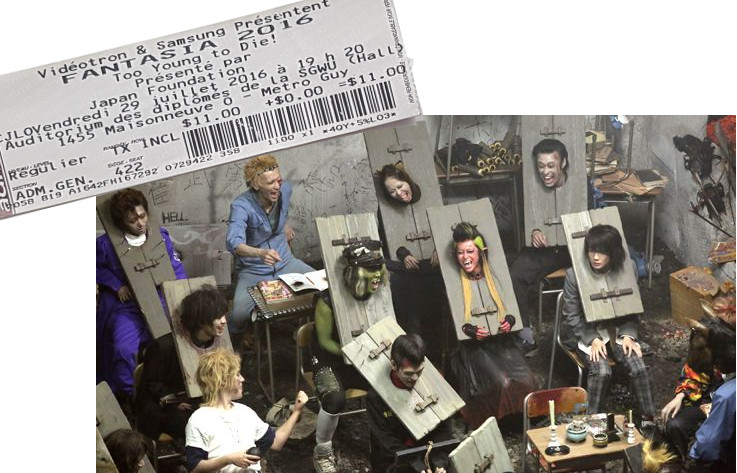 Too fucking young to die!  What a riot of a film.  This was one of the films that left my mind tingling and surprised.  A young man dies and finds himself in hell.  The only way to get out of hell if to challenge the devil to a battle of the bands.  The best songs allows one to return back to earth, or even go to heaven.  There were several well known Japanese musicians that act and play in the film.  I'm intentionally keeping out several details but you should check out this film if you're a big music fan or would just like a fun quirky story to enjoy.  No gore or violence just a tale of a young man who's trying to get another chance at life and love.  Another of my favorites from this years festival!
Don't Breathe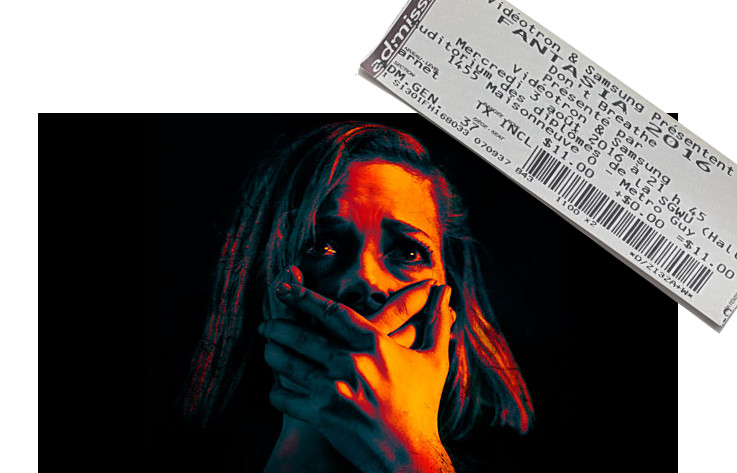 The Canadian premiere of Don't breathe.  Three youths decide to rob a blind man that lives alone in his house.  The premise is simple enough.  This being a Hollywood film, I wasn't expecting your typical suspense filled movie.  I was pleasantly surprised by the story line and only had one fault with it in general (won't discuss as to not spoil it for any of you).  Enjoyable film, worth watching curled up on the couch with your significant other or friends.  There's a great twist to this one that makes the story worthwhile.
Man Underground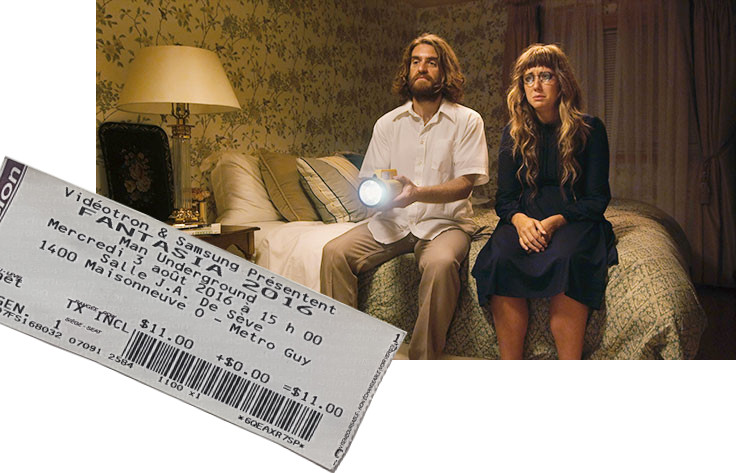 What a great quirky little film.  A man believes that there has been a ufo cover up.  He believes this because he was there when it occurred.  The problem is, he's a little strange and slightly paranoid as he believes the government is after him because of what he knows.  He decides to recreate what occurred in a very low budget movie for which one of his girl friends agrees to be the principal actress.  We're never really certain if what he claims to have seen really happened and the film leaves us guessing until the very end.  A strange tale with an ending that leave you wondering.  Really enjoyed this little gem of a film.
Pattaya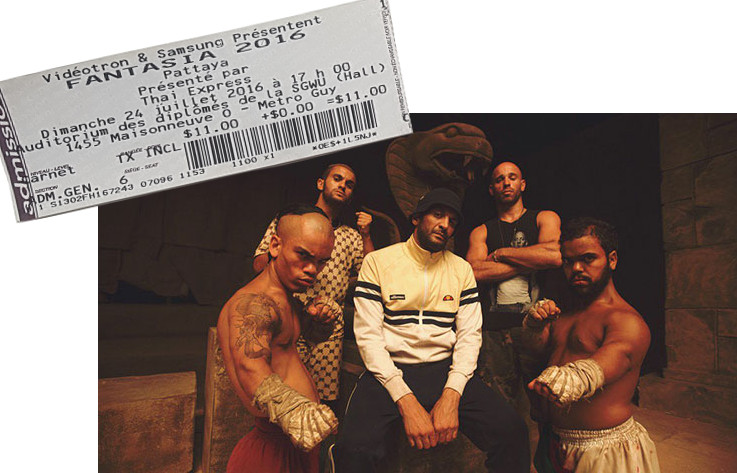 A French (France) comedy about a little person who gets tricked into fighting in a martial arts tournament.  A fun little slapstick film.  No deep story line here, just enjoy it for what it is.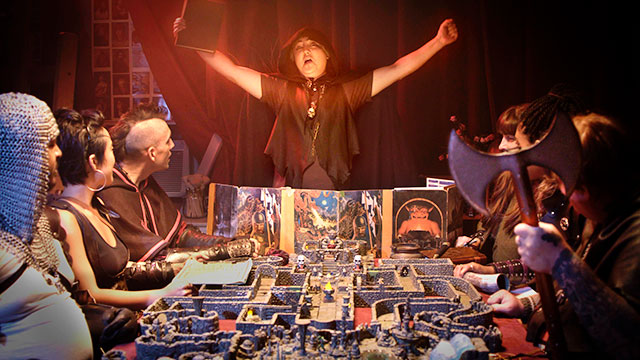 The second film for which I lost my ticket stub.  This is so embarrassing.  This was the Quebec premiere and was hosted by Subject Stefan Pokorny and Director Josh Bisho.  I'm going to cut straight to the chase and paste what Fantasia summarized of the film: The dramatic thread of THE DWARVENAUT, the latest documentary from Josh Bishop (MADE IN JAPAN), is the countdown on an ambitious Kickstarter campaign that's make-or-break for Pokorny and his colleagues. If it fails, Dwarven Forge falls with it. If it succeeds, however, Pokorny's realm of fantasy will expand immensely, a physical manifestation of 30 years of dedicated dungeonmastering. Along the way, much is revealed of Pokorny's story, his challenges in life and his steadfast dedication to his craft, his community and his creative vision.
The documentary was enjoyable enough and the characters had enough charm to captivate and keep your attention throughout the film.  The Q&A afterwards was a blast as well.  In case any of you have seen the film, I can confirm they never got their pirate ship…
For the love of Spock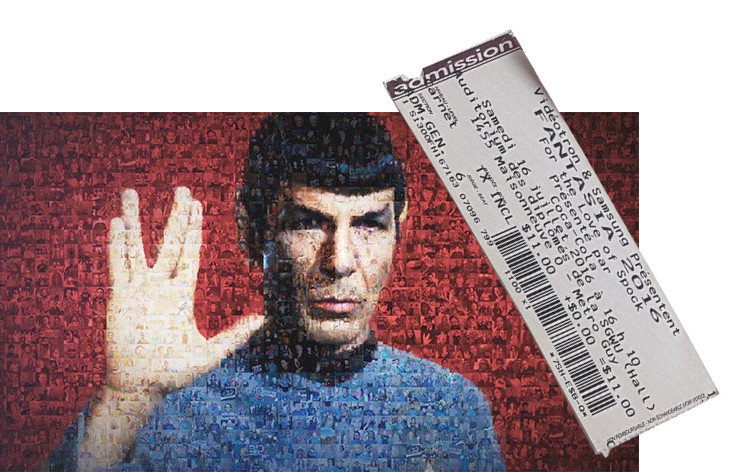 For the love of Spock.  This documentary follows the son of Leonard Nemoy as they discuss his father and his legacy as Spock from the original Star Trek television series.  Heartwarming and insightful, this is a must see for any star trek, science fiction or documentary lover.  Another of my favorites from this years festival.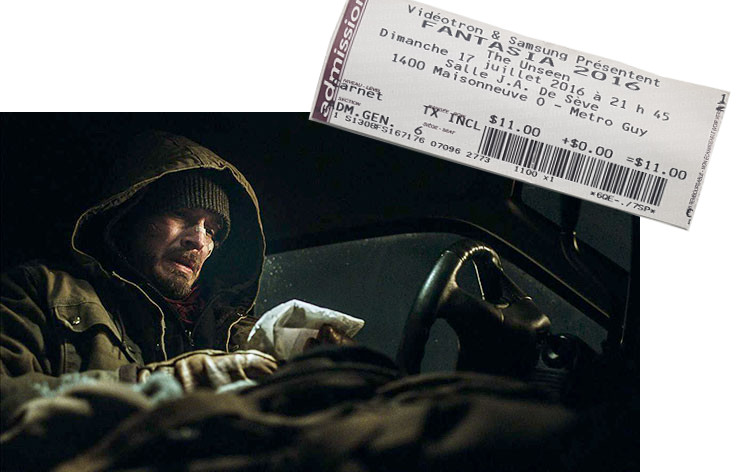 One of the great things about Fantasia is often the Director/Writer/Producer will be in attendance for a question and answer session after the film has been presented.  This was the case for "The Unseen", Writer/Director Hosted Geoff Redknap was in the crowd as were two of the main actresses.  The crows in the cinema hall was rather small for this one so we all got to ask a few questions and get to interact with them.  The story covers a divorced father working in a saw mill.  He lives alone and suffers from a worsening health condition.  His ex-wife has custody of their teenage daughter.  I don't want to say too much other than it's a suspense filled movie and was enjoyable.  Check out the link to learn more of visit IMDB for yourself!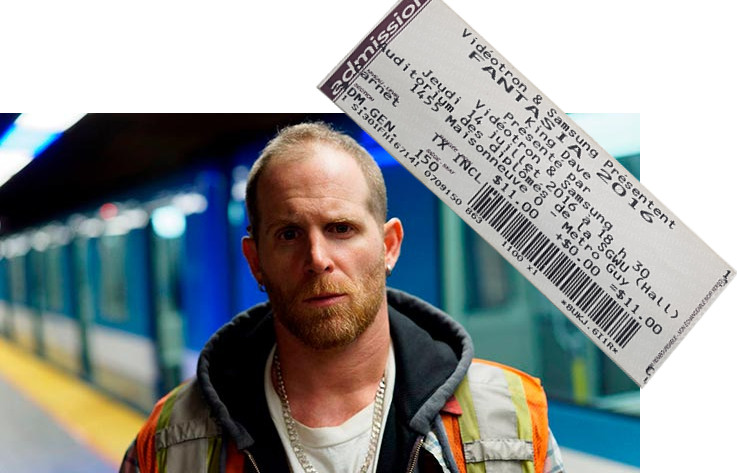 I feel like i have to be careful discussing this film.  To begin with it was all filmed in one continuous shot.  To quote IMDB; "Adapted from the play by Alexandre Goyette, King Dave is the story of Dave, self-proclaimed King, told IN A SINGLE BREATH IN ONE SEQUENCE SHOT."  This was the premiere and the crowd was filled with many of the who's who of the Quebec cinema and theater industries.  This included the producer, actor and many of the technical and distribution industry players.
The fact that it was filmed in one shot was impressive.  At times I found it hard to follow the dialogue.  The story was interesting enough and the film itself wasn't bad.  On the other hand I'm not sure it was particularly great.  IMDB has a rating hovering around 7/10 stars for this one.  It was filmed in and around the Montreal region so that was definitely an added bonus.   I'm left with the feeling that I could take it or leave it feeling regarding this film.  I don't regret seeing it at the premiere, but I'm not sure i would recommend it as a quality film to friends.  Interesting just for the amazing fact that it's a one sequence shot.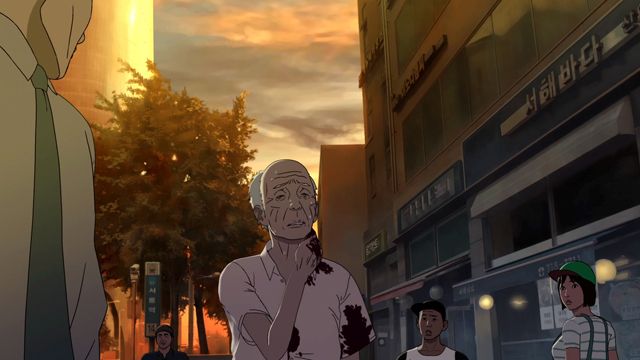 I know it shouldn't bother me, but I lost the ticket stub for this movie so I can't include it in the shot.  It bothers me!  Seoul station was one of the only animation movies I saw at this years Fantasia.  It covers a zombie outbreak which occurs in South Korea's capital City Seoul.  There were deeper story lines running throughout the film and wasn't just a zombie mob movie.  It won an audience award for best animated film, which if I'm being honest isn't surprising for the Fantasia crowd.  It was a respectful animated zombie film but I don't know if it'll stand the test of time as a "classic".
There were three movies for which I had tickets but missed the movies.  These were: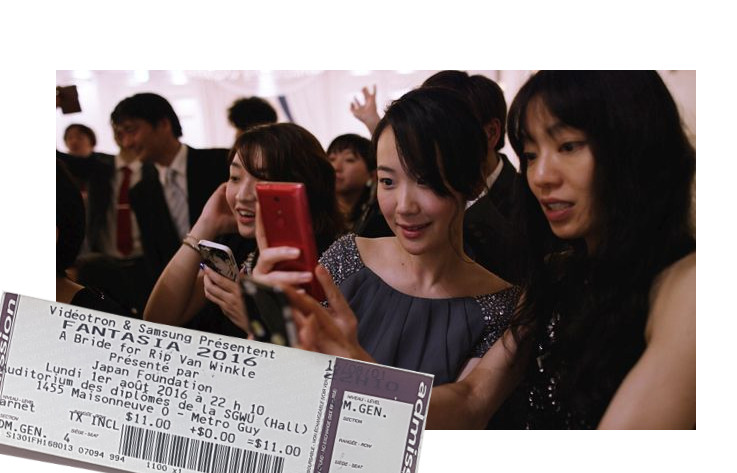 I really wanted to see this one because it was a more serious Japanese film.  Unfortunately I didn't make it due to unforeseen events.  Click the title to learn about about the film.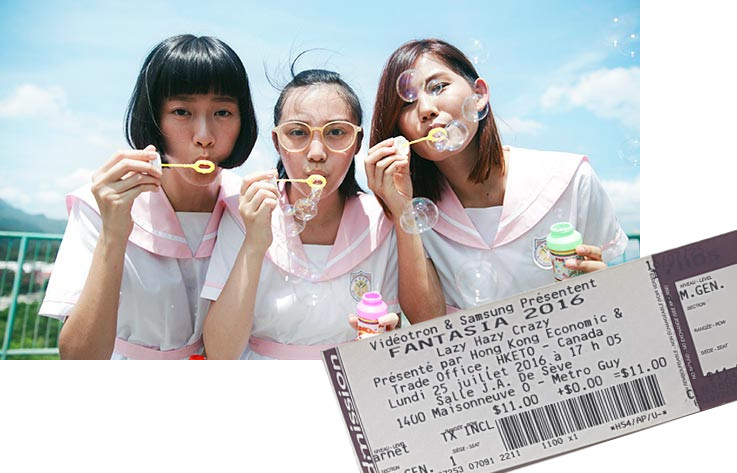 Thought this would have been an interesting perspective.  Direct from the Fantasia page:
"It's early summer in Hong Kong for carefree 18-year-olds Alice, Chloe and Tracy. Like any other teens, they have crushes on the boys on the basketball team, they fake period cramps to skip gym class, they fight with other schoolgirls over gossip, they post wet t-shirt pictures on social networks and, almost like any other teens, they have sex with older men for money. Torn apart at times by jealousy, united at others by a puppy they raise together, we follow the lives of three young girls as they make the transition into womanhood."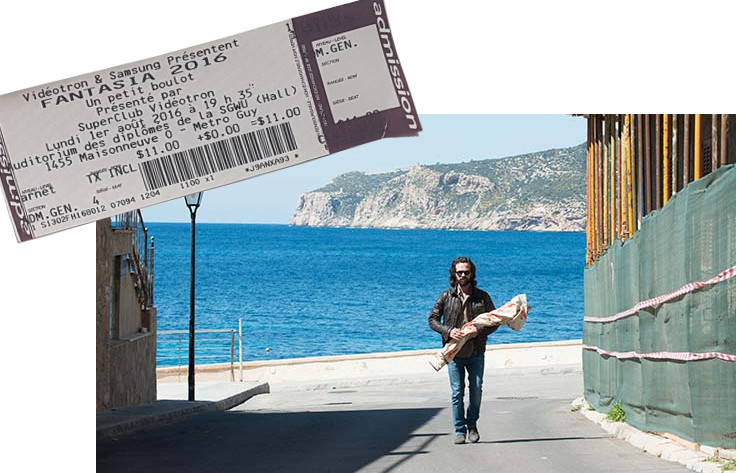 The last of the films I missed.  This one from France, it was about a small fishing town in which the one major employer closes it's operations.  A man decides to become a killer for hire (hitman) for one small job "un petit boulot" in French.  Another one I wanted to see which I missed.  Don't feel too bad about this one as I knew I would be able to rewatch it fairly easy via rentals.
Final thoughts on Montreal's 2016 Fantasia film festival:
Despite showing a wide range of old and new films Fantasia never fails to provide for an amazing experience.  It's just one of the many things I relish from the experience.  Fantasia provides paper ballots in order to vote on your favorite actors and films.  My personal favorites this year were The Bacchus lady, The Unseen, Man Underground and For the love of Spock.  Not surprisingly in my mind, several of those films and actors won "best of" in their category.   This year was the 20th anniversary and they put out a "anniversary poster" in typical Fantasia fashion: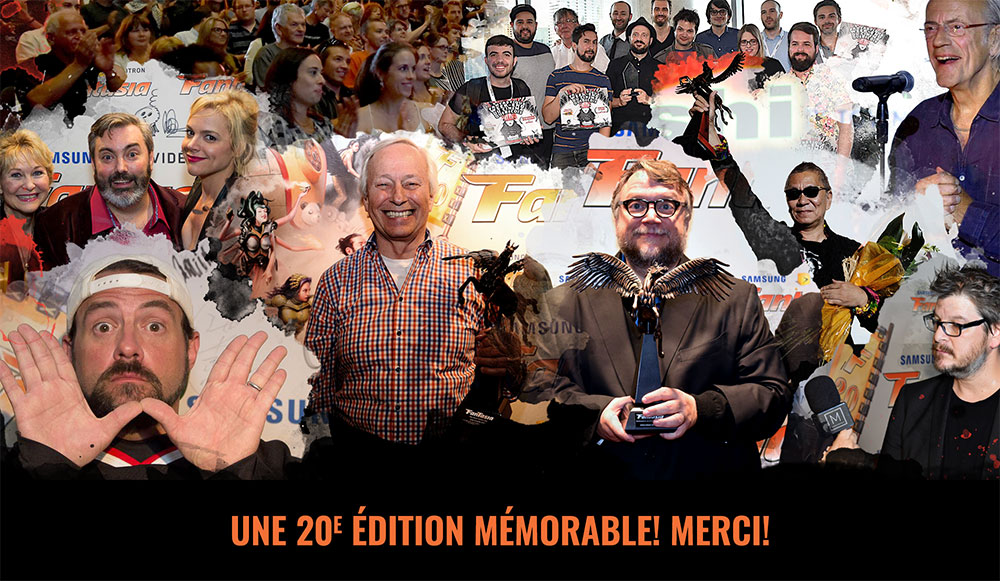 Fantasia also gave a lifetime achievement award to Takashi Miike.  A Japanese writer/director/film maker that is know for his mind bending stories and movies.  He was in attendance and had a translator so that he could communicate with the crowd and answer questions.  One of the things I learned, which was really cool is that the first time one of his films was shown outside of Japan was at Montreal's Fantasia Film festival.  If that doesn't tell you everything you need to know about the festival, no amount of convincing will get you to check it out.  You can also read an interview with Takashi Miike done by cultmtl here.
Cheval Noir Award for Best Feature: TRAIN TO BUSAN by Yeon Sang-ho
Cheval Noir Award for Best Screenplay: E J-Yong for THE BACCHUS LADY
Cheval Noir Award for Best Actress: Youn Yuh-jung, THE BACCHUS LADY
New Flesh Award for Best First Feature (awarded unanimously): MAN UNDERGROUND by Michael Borowiec and Sam Marine.
Audience Award for Best Asian Feature:
Gold – TRAIN TO BUSAN (Dir: Yeon Sang-ho)
Silver – TOO YOUNG TO DIE (Dir: Kankuro Kudo)
Audience Award for Best Documentary Feature:
FOR THE LOVE OF SPOCK (Dir: Adam Nimoy)
Audience Award for Best Animated Feature:
SEOUL STATION (Dir: Yeon Sang-ho)
You can find the complete results of the awards below.
Another great Fantasia festival.  Time to get ready for the 2017 festival!
mtl_dokkaebi