I was excited for this trip. This was going to be a trip of many first.  Not only had I not traveled in a long time, It would be my first time traveling with "the guys".  Our group of friends from Montreal.  It would also be the first time I set foot in a Latin American country.
In order to get the best deals on our flights, 3 us flew from Montreal to Toronto the night before our flight from Toronto to Bogota Colombia.  Because our flight got into Toronto airport late, we decided to sleep at the airport rather than spend unnecessary money on a hotel for what would amount to less than 5-6 hours.  We had some fun at the airport before settling in for the night on the available chairs and play area.
Two of our other friends had flown into Toronto earlier and had booked a room at a hotel near the airport.  They would be meeting up with us the following morning.  I had been getting up early in the am (4:30 to 5 am) for the past few years for work.  My internal clock was still waking me up at 4 am, so I was the first up and awake.  Not wanting to just sit and wait for my two other travel companions or wake them up, I decided to clear airport security early and go wander inside the secure area of the terminal.
A few hours later we were joined by Dan and Ben, who had spent the night at the hotel.  Slowly our flights check in time approached.  Still no news from either Hugo or Dave, who when I had last seen them were sound asleep on the airports playground area.  Boarding was now in the process of starting when we finally got a message via our phones "we're on our way!".  We all got a good laugh out of the fact that they slept at the airport and we're late to get to our flight.  In the end their running late made no difference.  Everyone boarded the plane but we then sat on the tarmac due to a maintenance issue.  We departed almost two hours late, which would cause us some problems with our scheduled connecting flight from Bogota to Santa Marta.  Everyone was on the same page, although disappointed in missing our connection we didn't let it bother us too much.
On the flight "down" to Colombia I managed to grab this great photo from the plane: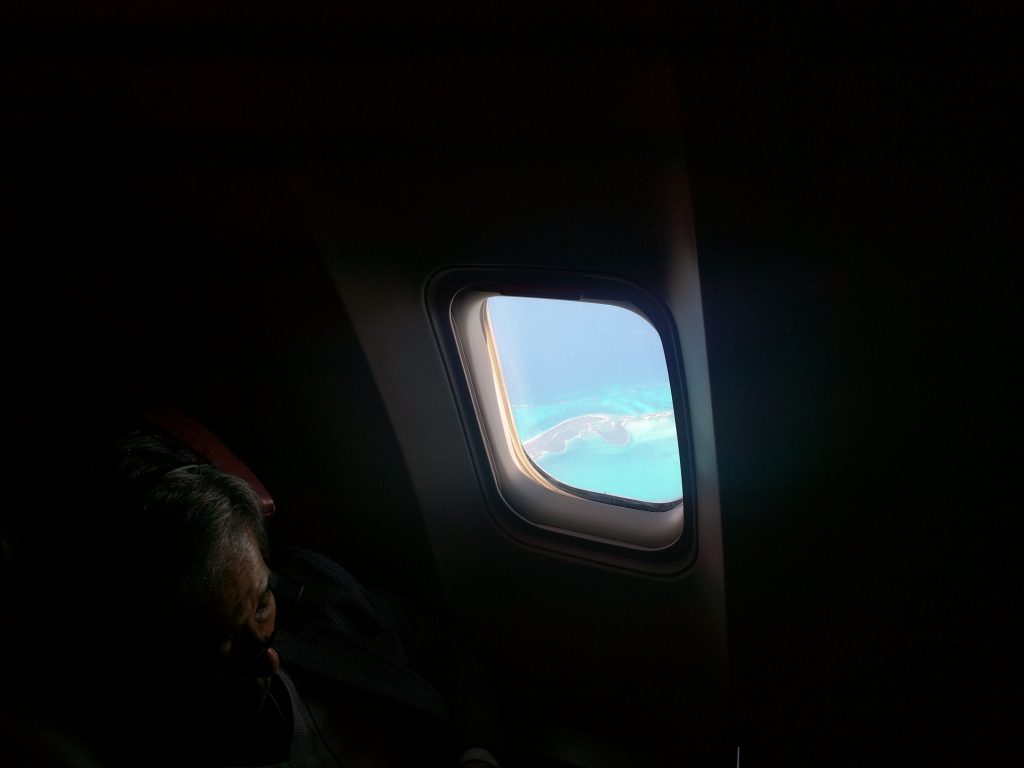 We touched down in Bogota, disembarked the plane and as we made our way through the terminal we saw what was suppose to be our plane to Santa Marta taxi across the tarmac.  The flight from Bogota to Santa hadn't cost us a great deal but we were all a little disappointed that we wouldn't make it to Santa Marta as we had planned.
We weren't overly excited about having to find alternative means of getting to Santa Marta due to the missed connection.  Despite being 5 of us, we all came to a consensus fairly quickly.  We would try to reach Santa Marta the same day, if we could find a reasonably priced alternative to get there.
Although I spoke no Spanish two individuals from our group were practically fluent.  We bounced from airport counter to counter, verified online options and finally found a flight from Bogota to Barranquilla.  Flying into Barranquilla would still leave us almost two hours from our final destination.  One member of our group, Dan had an expat Canadian friend living in Santa Marta which acted as our local contact and reference.  He advised us that we should be able to hire a taxi to get from Barranquilla to Santa Marta and what to try and negotiate regarding the price.
We got in late into Barranquilla and we were the only group of gringos to exit the small airport.  The taxi drivers were like a pack of hyena's ready to feast on the fresh meat.  We walked around a bit trying to see if perhaps we would locate a van or truck to drive us up to Santa Marta.  All the taxis would fit at a maximum 4 individuals, including the driver and we really didn't want to have to cram 5 of us in one of the little cars for what would be an almost two hour drive.
After some discussions with the locals and a few phone calls a van arrived to pick us up and we negotiated a price of 270 000 pesos for the ride.  Polite, our driver was definitely under the influence of some drugs.  He had with him one of his friends who appeared to be sober.  The van itself was a moving death trap.  That's not to say it was in a horrible state of disrepair but the back row had no seat belts.  The suspension with a total of 7 guys being supported by it was struggling.  It felt like being in a large boat being pushed around by the currents.  The currents in this case being around 80-90 kmh down highway roads.  If the brakes failed that was it for all of us.  The driver and his friend were cool enough in that he allowed us to stop and pick up a bunch of beers for the ride up to Santa Marta.  25 beers to be exact, 5 for each of us.  With some Latin music playing for the whole ride it was good to know we would be making it into our hotel that night, the Hotel Nueva Granada.  Here's the route we took via death-van-taxi: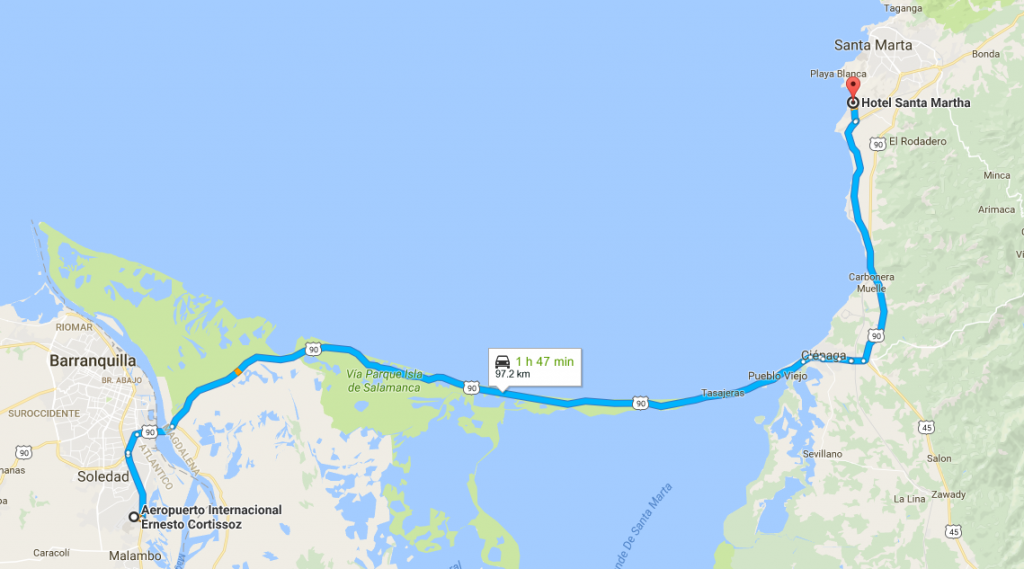 I relished the drive down.  Despite being a little nervous about hiring a van late at night to drive through part of Colombia, I loved the experience.  We crossed many small towns, villages and road side shanties.  We saw people in local bars, street stalls and I got my first glimpse of life in the Colombian country side.  There's no doubt there's lots of poverty yet my initial impression was that the people seemed happy.
Lone couples could be seen dancing outside dilapidated buildings.  Stray dogs wandered.  Poorly lit alleys littered the landscape in a blur of lights as we drove by.  A small pit stop along the way for our driver to pick up what we later assumed to be more coke.  The transaction was all done in a blink of an eye.  He pulled up to a small stand by the side of the road which sold cigarettes, drinks and snacks only to purchase one cigarette.  As the cigarette was handed over to him, it also included a small pouch which was barely noticeable.  The driver lit his cigarette, quickly inhaled whatever he had snuck into his hand and drove off into the night.
We stopped for Gasoline along the way.  5 or 6 guys were sitting around a table outside the station.  No pavement here, a bumpy pot holed dirt road greeted us at the pumps.  A tall large man walked over, with a "don't even try to fuck with me" look on his face.  They discussed gas and the driver proceeded to hand him the cash.  The gas station attendant inspected the bill visually, felt it and indicated that it wasn't satisfactory.  He most likely suspected it was a counterfeit bill.  The driver didn't argue, he took the bill back, handed him another and the gas soon started flowing.  Shortly afterwards we were on our way.  I enjoyed winding our way through the Colombian country side.  Off in the distance a large thunder storm's lighting was providing quite the light show for us to admire.  Lighting exploding through the night sky as we zoomed down the highway.  Passenger buses passed us, music playing loudly, people hanging out the doors, horns tooting in their typical Colombian "hey I'm letting you know I'm here" way.
As we began to approach Santa Marta the new developments could be seen.  Condo/ apartment towers which appeared new but mostly empty.  Shiny materials but no lights inside to indicate inhabitants.  We slowly wound our way through the outskirts and eventually streets of Santa Marta.  Approaching our hotel we crossed a group of street workers moments before our destination.  Our local friend had also advised us not to wander past certain streets late in the evenings.
We checked into our room and at least for my part was pleasantly surprised by the accommodations.  Two bunk beds and one large queen bed.  Air conditioning and two small separate washrooms with showers in room.  It was fairly warm when we went to bed so we decided to turn on the air conditioning before going to sleep.  What a mistake that was.  A few hours into the night and we were all freezing underneath our slim bed sheet cover.  No one had taken note of where the Air conditioning remote had been left.  It's a shame we weren't able to capture what the morning looked like as we awoke.  5 of us shivering, huddled under our respective small sheet, with the air conditioning humming away.
The hotel we stayed at included a freshly cooked breakfast, fresh pressed/blended juices and coffee or hot chocolate.  Really enjoyed our time at the Hotel Nueva Granada.  After breakfast We were ready for our first day in Santa.  We wound our way down to the local beach, jumped in for our first swim of the vacation and got haggled by the local vendors to buy everything from sunglasses to souvenirs.
This was followed by our first meal in Santa Marta at Ouzo.  This was the best rated restaurant in Santa Marta.  Even though it was "Greek" cuisine we decided to sit down and just start by having a few drinks.  After a few drinks we chose to split a pizza between the group of us before doing a little more sight seeing.  I don't remember how much the pizza cost us, but it was well prepared and delicious.
We wandered the local Santa Martha streets, stopping a few hours later in another restaurant hoping to try some ceviches.  Unfortunately after sitting down and looking over the menu we realized that all of their ceviches were with cooked fish.  They were respectable but not what we had hoped to order.  We made our way to the hotel to relax while we waited to meet up with Dan's friend from Canada who now lived in Santa.
That afternoon we hung out around the hotels pool, playing chess and drinking beers.  It was a perfect relaxing afternoon:
Sometime around supper time Lee arrived at the hotel and we were all introduced.  We talked for a little bit and then made our way back out into the city.  We stopped at an atm and then met up with his girlfriend Cres who was walking her two dogs.  One of which has to be the coolest little guy in Colombia.  The other was cool as well, just not as much as the little one.  You can see them both at the end of the hiking video when we finally reach the waterfall.
After stopping at the bank and picking up some empanadas we made our way to their condo building. Located on the top of their building was not only an amazing view of the city, but two pools and a steam room.  If I'm not mistaken some barbq's which we didn't use.  We hung out, talked and shared beers while watching the sun go down.
The above pictures are all good, but for my money this one was the nicest: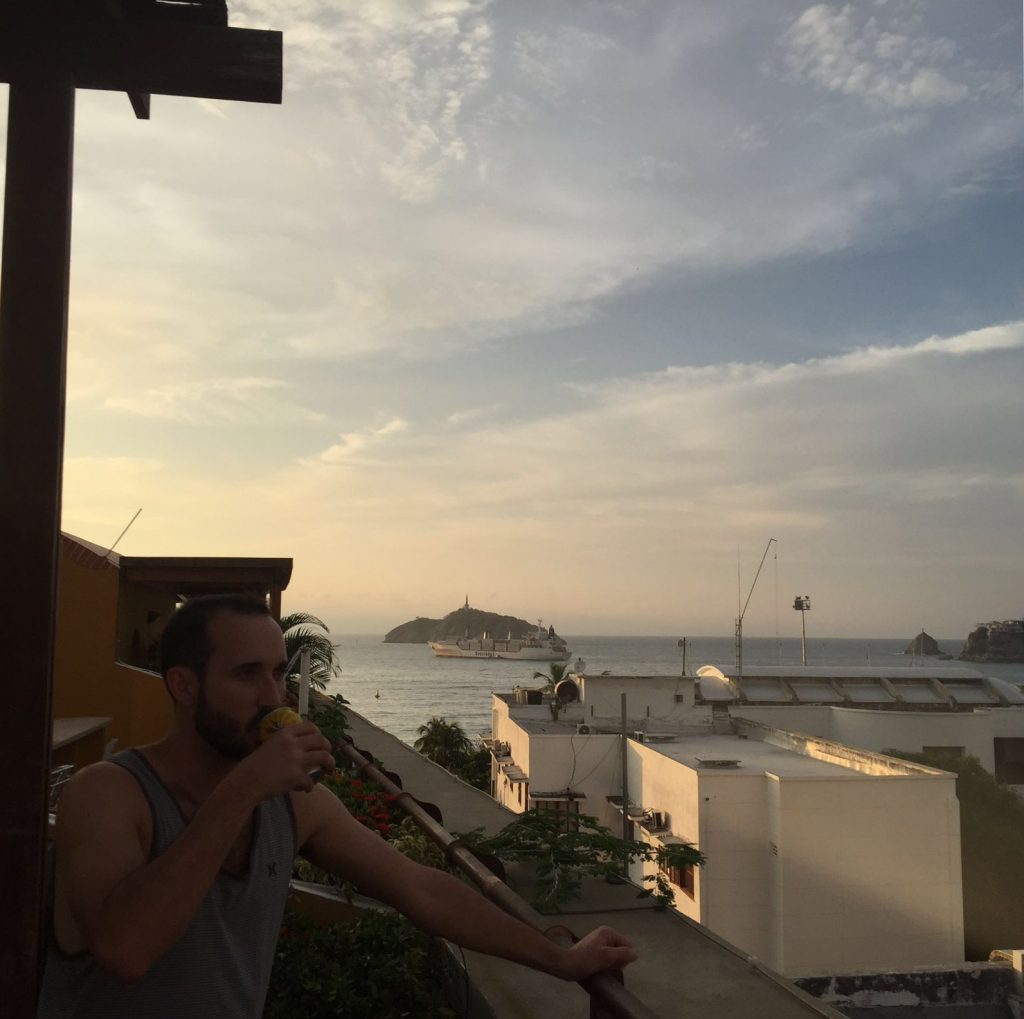 We made plans to have Lee pick us up the following day in order to drive us out to our next destination: Costeno beach hostel.  We would be spending one night there before Lee would come back to pick us up so we could make our way to their little paradise in the mountains.  We crammed ourselves into his van along with the two dogs and began our drive.  Along the way we stopped at one of their large shopping centers which had a type of "home depot".  We needed to pick up a grill if we could find one in order to barbq along with food and drinks for our camping adventure.  You can watch a time lapse of the drive up Costeno Beach filmed via gopro below.
Our introduction to Costeno beach and it's staff was warm due to Lee.  He had spent a better part of a year working at the original Costeno beach, which was located a short walk down the beach from where the current Costeno beach hostel is located.  The accommodations and facilities were above what I expected.  A top floor of some 20 bunk beds surrounded by mosquito/bug nets, with a ground floors of approximately the same amount of hammocks.  A large, open common area which server as the kitchen and the bar.  A beach area with more hammocks as well as several private cabins which had a double bed and a private washroom and shower.  All and all a little piece of paradise in the middle of what I would describe as "no where"
The plan was to spend one night at the hostel after which Lee would come pick us up so that we could spend one night at "la finca".
The finca was located approximately 15-20 minutes drive away from the hostel.  A quick turn off from the main route, a small dirt road led us further into the wild.  After which we would have to hike for another 15-20 minutes to reach the finca.  The trip up to the farm house was a little tough as we were all carrying ample supplies of food, booze and equipment.  Once we dropped off all the gear we trekked down a small path to reach the river.  It was a warm and humid day, and jumping in the river felt amazingly refreshing.  We had a bunch of inflatable rafts, tubes and animals that we tied together so that we could just float in the middle of the river without being taken downstream by the current.
This was a small little farmhouse that Lee and Cres had recently purchased.  The amenities were bare, the live wires were everywhere but as far as we were considered it was a little piece of paradise in the Columbia jungle.  First we went for a swim in the river: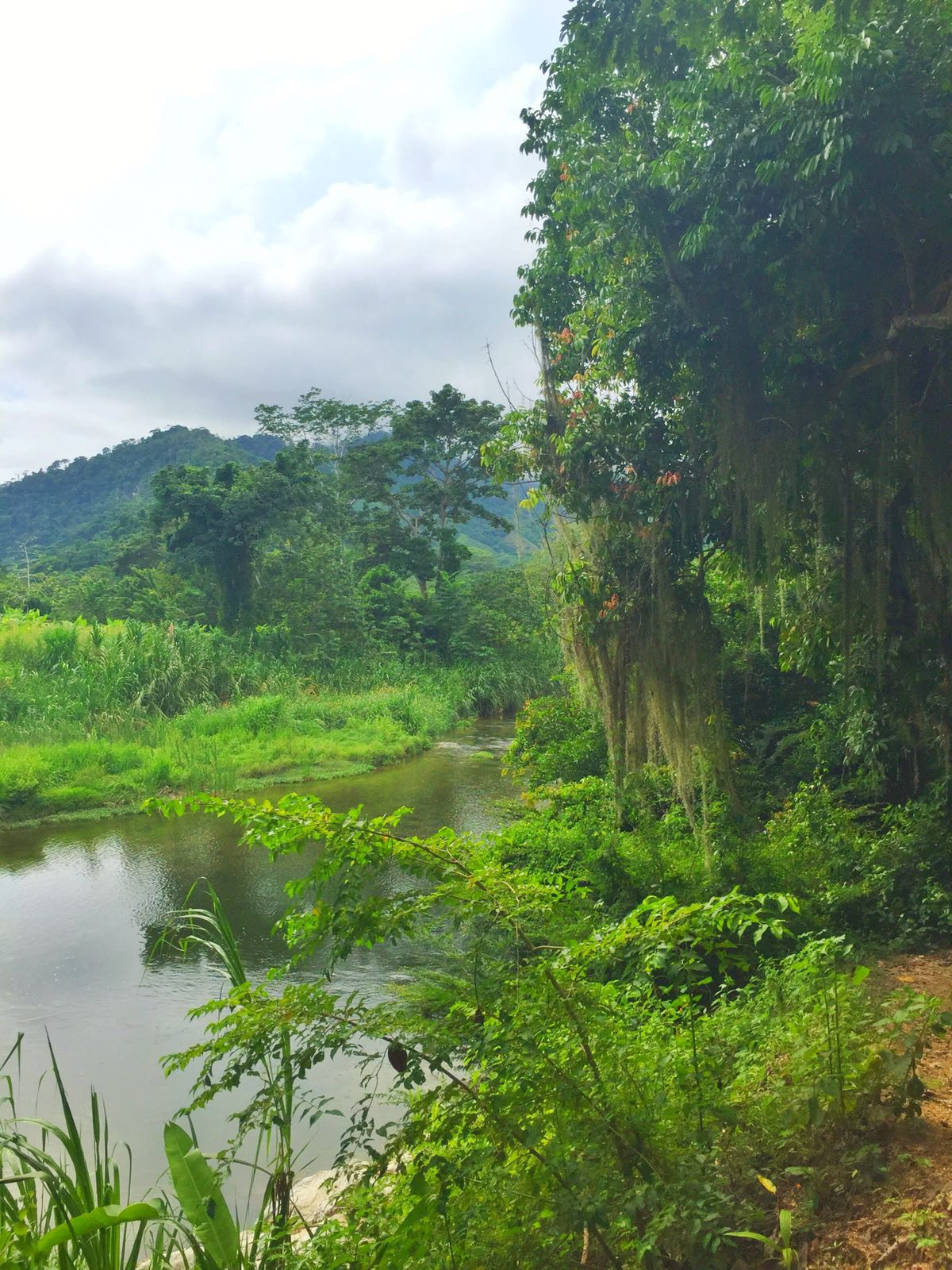 This was followed by us prepping the meal for our bbq supper.
As usual we made a mess of starting the charcoals.  We regularly have charcoal barbq events in Montreal and often misjudge just how much kindling to use to get the charcoals properly ignited.  On the menu, chicken wings, pork taco's with an assorted of fresh sides.  All of it turned out great.
The meal completed, we played a great little game that Lee introduced to us.  You take a bundle of cheap blank paper "queue" cards.  You give each person playing a stack of cards which has the same amount of cards as players.  So if there are 5 players, each player gets a stack of 5 cards.
Each person has to write one word on the card and then pass it onto the next person.  Once you've received a card with a word on it your job is to try and draw that word.  After which you once again pass the card to the person next to you. You do this until at the very end you receive the stack of cards with your original word written on it.  You then get to flip through the progression of "word"->"drawing"->"word"->"drawing".  It almost always ends up having at least a few cards that will make the whole group burst out in laughter.  One which sticks out to my mind was the word flute in the end was transformed into alien.
After the games and drinks Lee began to hook up all our hammocks.  This would be my first time sleeping over night in a hammock and I was a little concerned due to my back.  As he was setting up the hammocks Lee explained that ideally you want to sleep in a slightly diagonal fashion in the hammock.  If the hammock is hung properly, doing so allows you to be almost perfectly horizontal.
Much to my surprise, I slept better than I expected in the hammock.
The following day was magical.  We got up and cooked a breakfast consisting of fruits, bacon, eggs and juice.  Once breakfast was done and we had finished cleaning up, we made our way to what would end up being an amazingly beautiful jungle trek.
We began by doing a quick walk around of Lee's property, which brought us up to the top of the mountain's ridge line.  Lee and Cres property were on the east slope and as we would our way up from to the top of the ridge we got an excellent view of the winding river and valley.
The quick tour of his property done, we then headed towards our main destination for the day.  Winding our way down the ridge, heading southward (if I'm not mistaken) we kept following an old trail through the jungle.  As is typical of mountainous trekking we were often going downhill for small lengths of time, only to then proceed uphill again.  Along the way, we ran into some of Lee and Cres's neighbors.  Mostly small farms with the exception of one beautiful, large hut home which was being built.  This large hut home was being built buy someone Lee knew from the hostel.  I believe he was an Argentinian.  I can say this as a straight dude, probably one of the best looking men I've ever seen in my life.  I wasn't surprised to see he had an entourage of women with him.  French women from France at that, which made me chuckle inside.
We continued on and after another 10-15 minutes we finally started trekking downhill again, with the soft sound of a waterfall in the distance.  As we approached the sound kept getting louder and louder until after one turn in the bend we could finally see the water cresting over the ridge and splashing down into a beautiful pool.
It didn't take us very long to make our way down, strip off our shoes and dive into the water.  There's something truly amazing about jumping into a pool of refreshing water when you're in a hot, humid jungle.  The contrast seems to energize every cell in your body.
Here's a video of us slowly making our way down to the waterfall:
We spent a good 15-20 minutes swimming at the watering hole before finally making our way back.  The hope and plan is to eventually have guided eco tourism to the waterfall.  Ideally for the more rugged and remote travelers, not those who want a warm shower and complete amenities in their stay.
As we made our way back and arrived to the large hut home we were invited by Lee's friend to stop and take a quick rest/chat.  We made our way to the top floor and were greeted with a simply amazing view of the valley.  He mentioned that although he does not get a clear view of the sunrises (we could see the ocean from where we sat) at night the moon was truly something to behold.  I can only imagine what the stars must have looked like, in the middle of the jungle atop that ridge, laying in a hammock.  We were offered a refreshing cold tea drink, which we sipped on while discussing everything and nothing.  Soaking in the a view that in all likely hood I may never have a chance to see again.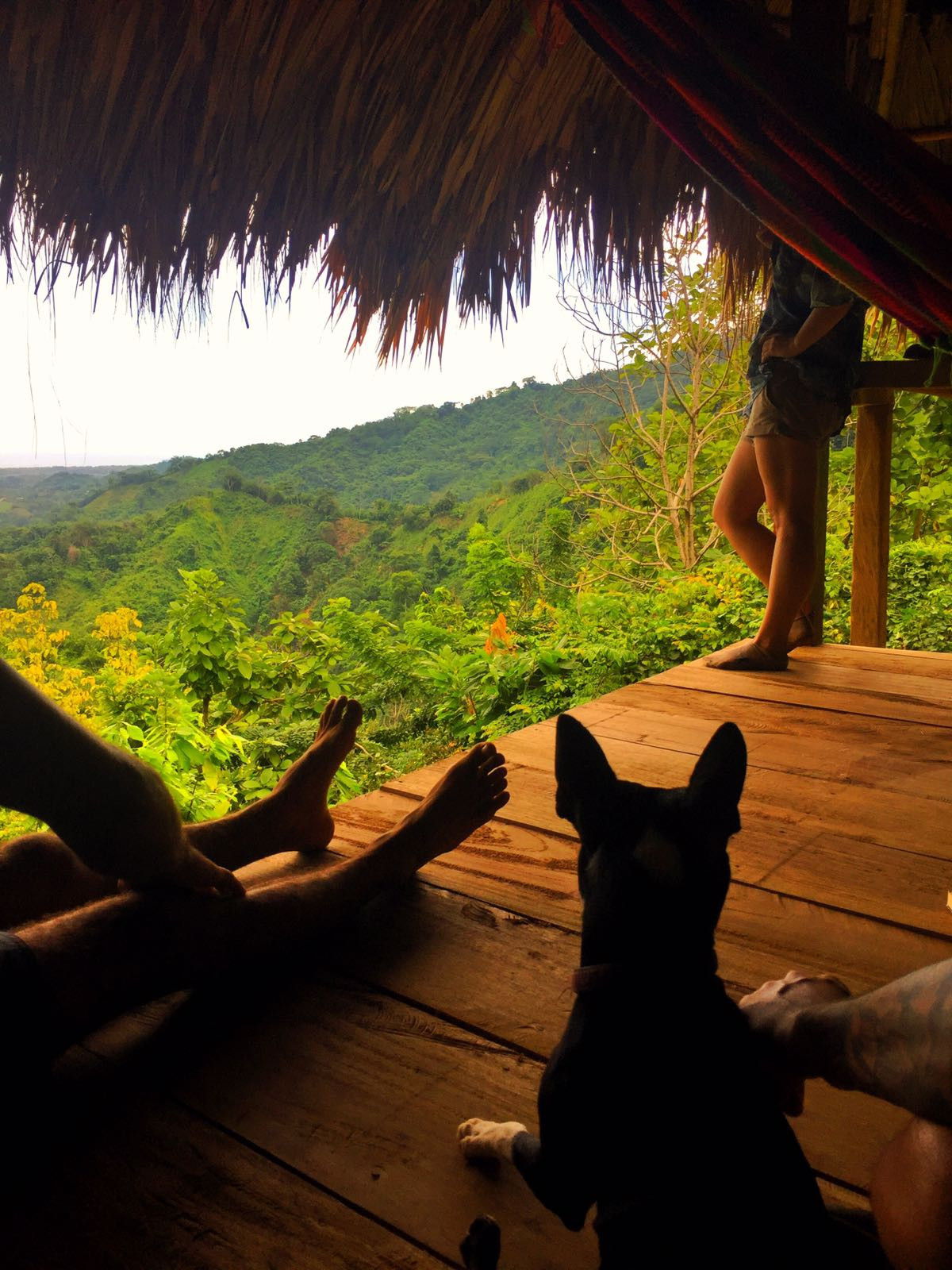 Afterwards we made our way back to Lee and Cres's finca (the farm).  It was still early afternoon when we finally started packing up all our stuff for the hike down to the van.  We drove to the hostel and had shared a meal at the original Costeno beach hostel kitchen.
Some of the guys booked two nights at a nicer hotel located just beside the hostel.  They only had one room left, otherwise I would have most likely booked one for myself.  Having experienced a decent nights sleep in a hammock the previous day I was willing to try sleeping in a hammock at the hostel to see how it compared.
That night I would sleep in the hostels hammock.  As soon as I got into the hammock I immediately realized it would not sleep well.  There was no way to sleep slightly sideways in the hammock as Lee had suggested.  This was primary due to the fact the hammock wasn't hung at the "perfect" angle.  I say perfect because I'm sure it takes some practice to get the hammock's angle just right.  So compared to my first night in a Hammock our local expert Lee had setup, my second night sleep in the hostel hammock was bad.  You always ended up curled into a ball in the middle of the hammock, while your spine was slightly bent in the shape of a U.
After waking up that morning I walked over to the check in counter at both hostels to see if any beds had freed up.  Although at the time none were available, they suggested I came back after 2 pm to see if they had any cancellations.  We spent that day lounging on the beach, enjoying the weather.  A little breakfast, an early morning swim, some reading and some laying about in hammocks.
At 2 pm, i checked in with the hostel staff who advised me one of their private rooms was available.  These were little huts on the beach, with their own private bed, bathroom and shower.  I hadn't spent a lot of money on this trip so i decided to treat myself to one night in the private hut.  I was hoping to meet a nice girl to perhaps share the night with, but I was out of luck.  I was out of practice, so my efforts were probably lack luster at best.  Let it at least be noted the effort was made.  Where as the guys stuck to themselves and  drank on the beach.  Some of them had significant others back home so it's totally understandable!
That night we had a few pints together, played some more chess and I called it an early night.  I was looking forward to sleeping in bed in my own little private room.
The following morning was bitter sweet.  I was up early and got to wander the hostel beach by myself.  The realization that you're about to leave such a visually beautiful place always makes me slightly introspective.
A short time afterwards I crossed Matt who was also up early.  As we discussed plans we decided to leave for Santa Martha early in order to get a little shopping done. We packed up all our gear, passed the message along to the rest of the group and hiked our way to the nearest highway in order to catch a bus into Santa.
Hiking out of the hostel area to the highway side was something I enjoyed more than I expected.  I had felt thoroughly invigorated during the previous days jungle hike.  A few weeks earlier I had gone on a similar but much easier hike just outside of Montreal.  All of these made me realize how much I missed trekking and being in nature.
We got into Santa Marta a little it before lunch.  Did some shopping in the local streets where I picked up a coupletourist t shirts and one nice dress shirt, all for 45$ Can.  We sat down and had a lunch at one of the local spots and then made our way to the airport.  Our flight was only later in the day.  The airport was much smaller than I had anticipated but I was happy to be somewhere I could just sit and relax.  Opened up my book and turned the pages until it was time to check in.
Our flight from Santa Marta to Bogota was uneventful.  A quick short hop and we were landing in Bogota.  From the Bogota Airport we hired a van/truck to ferry us all to the hotel.  We quickly checked in, had showers and made our way to a nice restaurant a mutual friend had recommended for us.  Villanos en Bermudas: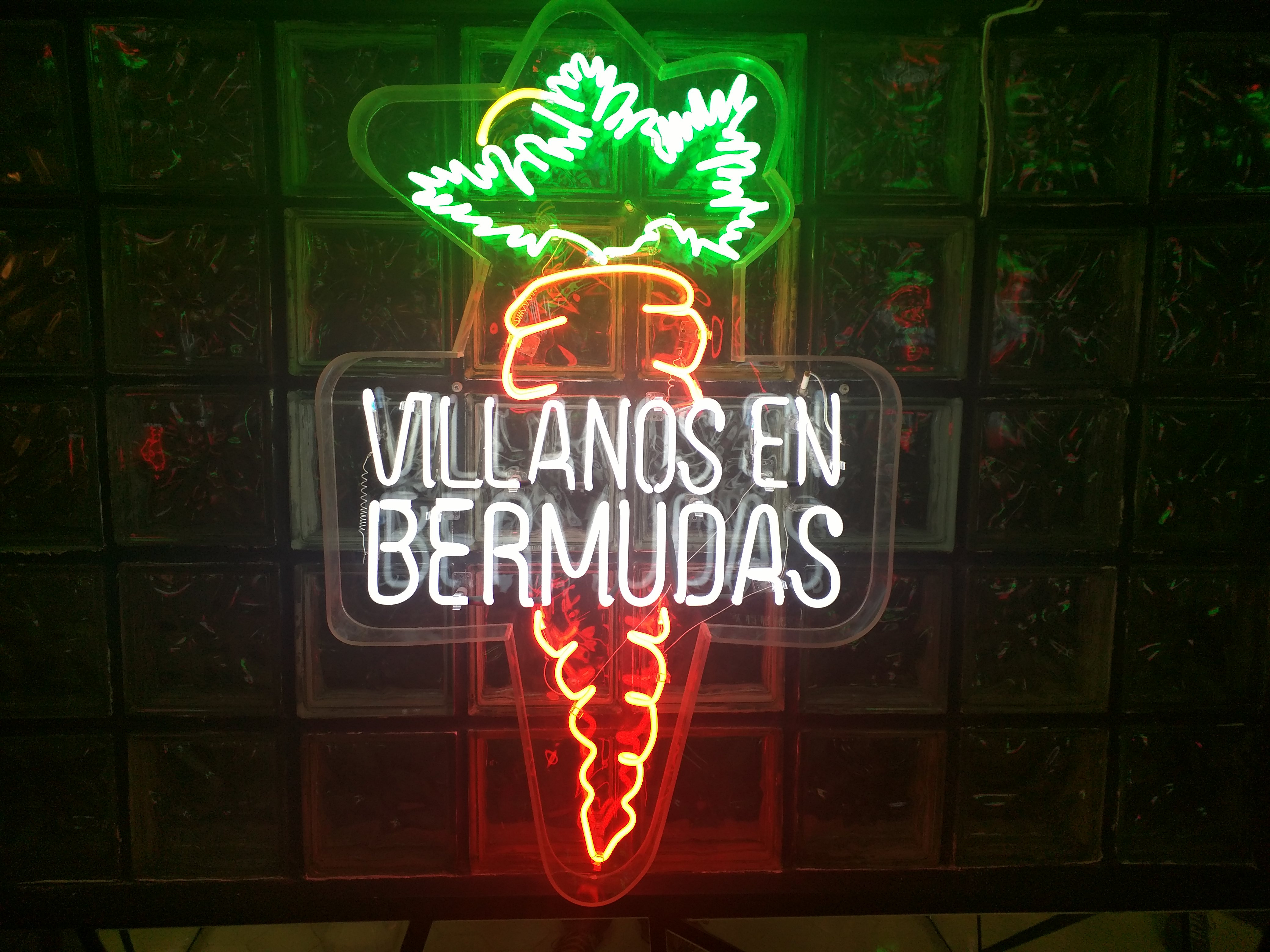 We were running late and when we arrived the door was locked.  We knocked, we greeted, made our way up to the bar on the second floor.  Ordered a drink before being seated at our table on the third floor.  The table being located just a few feet from the open area chefs kitchen.
It was to be a 6 service meal.  We finished our drinks, had the first few dishes and ordered a bottle of wine to share between ourselves.  The food and wine was excellent.  Unfortunately I didn't take a lot of pictures of the meal itself because I simply didn't want to take out my phone after each course.  I was happy to just sit at the table and enjoy the moment with friends.  Here's one of the few pictures of the meal I had: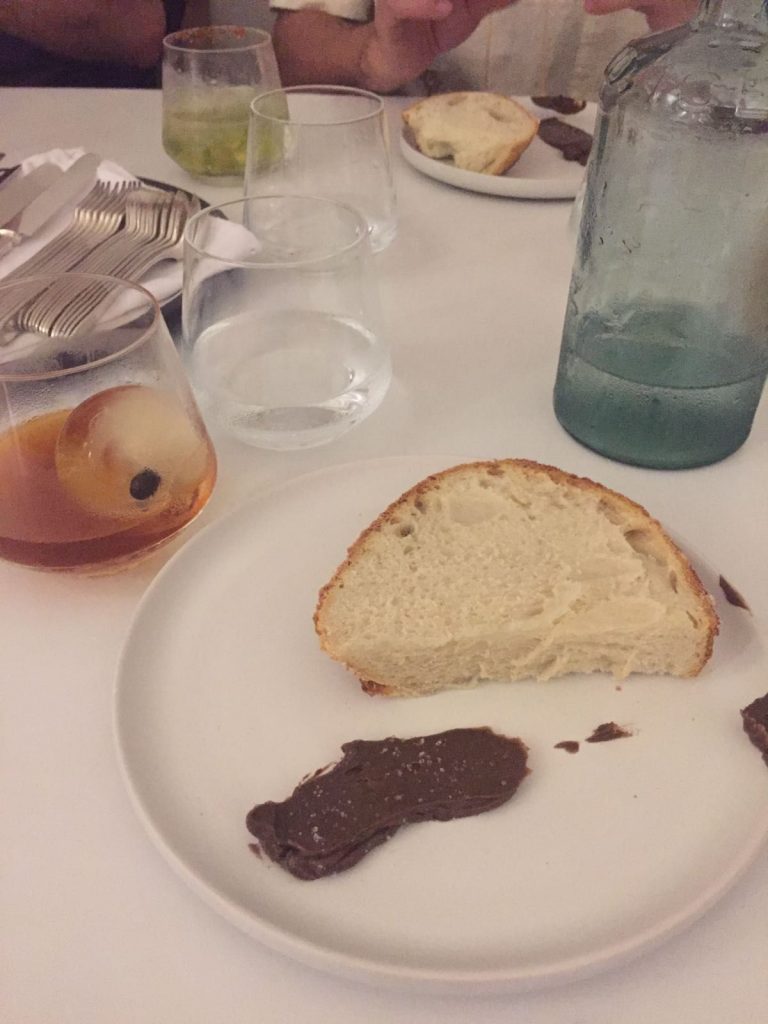 The restaurant itself was in an old style house with several floors.  I didn't feel like being a tourist and taking too many pictures of the restaurant itself but one thing everyone was talking about was the washroom.  Check it out:
After our meal we made our way to a local neighborhood pub.  The city was pretty quiet it being a Tuesday night.  We shared a few pints before finally making our way to the hotel.  Most of our group of guys were flying back the following day with the exception of Dan and Ben who would be staying in Bogota for an extra few days.
On our return trip we flew from Bogota to Toronto, then Toronto to Montreal.  I got home a little before 3 am.  As a first visit to South America and Colombia I believe this will be an experience that will be difficult to surpass.
In my opinion Colombia is still relatively untouched by commercialized tourism.  The industry is still nascent and will no doubt further develop in the next few years.  It felt great to be traveling in a foreign tropical country.